FLIP
On-set preview of live camera output with real-time application of looks
---
FLIP Remote is now available from the App Store
The FLIP Remote iPad client is available from Apple's App Store. If you're viewing this page on an iPad, click this link to download the app from the App Store.
The FLIP Remote Mac Client can be downloaded from the FLIP Support page.
---
Apply lookup tables, grades and filter effects to the live camera output while you're shooting on set—so you can see exactly what the images will look like in post.
FLIP takes away the guesswork of digital cinematography, and enables the first thoughts of the DoP or the director to become the foundation for the final grade.
---
Your vision at every stage
Carrying forward all your metadata from set, including the creative decisions you make using FLIP, means the same vision can be seen at all stages in the post-production pipeline. Look data and transform LUTs can be imported directly into Daylight, Baselight and Baselight Editions so you can work on your original raw camera footage with the same looks in VFX, editorial and the final grade.
The ability to export standard ASC CDL lists and 3rd party formatted 3D LUTs enable you to integrate FLIP into any post-production workflow.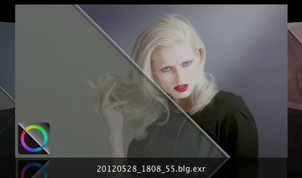 Truelight Colour Spaces for high fidelity, HDR image processing
All image processing in FLIP is performed at 32-bit floating point for the highest possible colour fidelity. This, integrated with the latest advances in Truelight Colour Space technology, makes FLIP ideally placed to deal with the latest High Dynamic Range workflows.
Truelight Colour Spaces enable support for new camera and display colour spaces to be added to FLIP dynamically via simple colour space definition files, extending the abilities of your FLIP as new formats are released.
Baselight Linked Grade file (BLG)
FLIP is designed around the FilmLight BLG file format. The BLG (Baselight Linked Grade) is a multi-track OpenEXR file that you can use to create, transfer and review looks. It is a small and portable data file that enables looks to be exchanged with all Baselight systems including Daylight and Baselight Editions.
When we use the term 'look', we're not just talking about a LUT or a restricted grade—the look within the BLG is the full creative intent. It contains all grade information including Truelight cubes, conform metadata and keyframes.
The BLG file format can enable powerful and fast dailies workflows, as well as render-free workflows when coupled with Baselight Editions for editorial and VFX systems.
---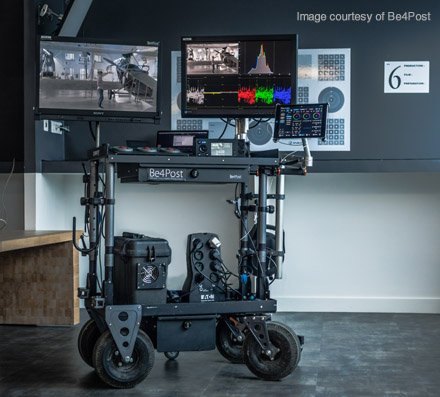 Start the grade on set
Looks developed in the grading theatre during test-shoots can be imported into FLIP, previewed with live footage and then further refined on-set using simple, yet powerful, real-time grading tools. The looks which you create in FLIP are then exported back to the grading theatre and seamlessly combined with the original raw camera footage to reproduce the same looks for the final grade.
Adaptive technology for on-set demands
The FLIP interface is clear and uncluttered with a purpose-built navigation button—and you can also use the remote control app on an iPad or MacBook (see below) to make the most of FLIP's sophisticated toolset.
---
Live look adjustment
Full grading controls mean you can adjust looks live while capturing or reviewing footage.
FLIP allows easy adjustment of grade and look parameters, while the grading options include live filters such as blur, soften, mist and effects processing. The system also supports secondary grades with matte functions, and lets you modify these elements on-set.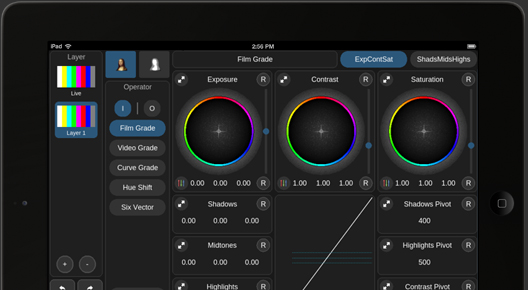 ---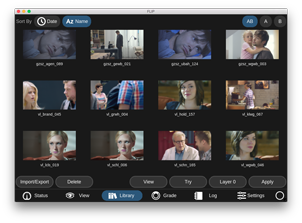 Take control—remotely
Take full control of FLIP via iPad or Mac OSX.
FLIP streams video to the remote device so you can preview images and adjust looks just as you would if you were sitting right in front of the FLIP hardware box.
You can even connect multiple FLIP systems to the one remote interface, all via wifi or ethernet.
The FLIP Remote Mac Client is available from the FLIP Support page, and it can also be downloaded from the iTunes Store. If you're viewing this page on an iPad, click this link to download the app from iTunes.
---
Ethernet and wireless connectivity
FLIP has Ethernet connectivity so you can transfer looks and other metadata directly over the network.
Not only that, but if you're using an ARRI Alexa camera and FLIP is connected to a wireless network, it can communicate information about looks straight to the camera over its wi-fi interface. No cables, no fuss.
Multi-camera switching
Switch between input cameras, with independent looks for each feed.
---
Built-in waveform/vectorscopes and histogram
These options include a measurement cursor and clip alarm so you can be sure your levels are always accurate and within range.
Extensive panel support
FLIP supports a wide range of control panels, including the Tangent Wave and Element panels.
---
Timecode reader
FLIP also features a LTC and VITC timecode reader with internal/external timecode.