Prelight & Prelight ON-SET v5
Interactive look research and colour correction right from the start
Prelight is a macOS application designed to allow a Director of Photography (DoP) and other creatives to freely author, apply and modify looks. The commercial version, Prelight ON‐SET, extends these tools for the Digital Imaging Technician (DIT) for use during pre‐production, production and post.
---
Prelight v5 is now available
If you have already purchased a licence for Prelight ON-SET, you are entitled to a free upgrade to Prelight ON-SET v5. Simply download and install the latest version of the software - your existing licence will work automatically.
If you have an existing free licence for Prelight 4.4, you will need to obtain a new licence key and install the latest version. Click Free Licence and follow the instructions.
All trial licences have been reset, so if you have already tried Prelight ON-SET 4.4 would like to try v5 free for 14 days, click 14-day Trial and follow the instructions.
---
For more video tutorials like this one, click here.
Use the links below to buy or try Prelight ON-SET or download the free version of Prelight, or visit our
Web Store
for more information.

Buy Now allows you to purchase full, permanent licences for Prelight ON‑SET.
14-Day Trial gives you access to a fully functioning, node-locked version of Prelight ON-SET for 14 days.
Free Licence provides you with a licence for the free version of Prelight, which allows you to author, apply and modify looks.
Support
If you need to download the Prelight installer again, or you are looking for the latest version, you can find it on the Prelight Downloads page.
If you have a specific question, email it to [email protected].
Feature comparison
| | | |
| --- | --- | --- |
| | Prelight | Prelight On-Set |
| Import a still in any of a multitude of professional formats, including RAW camera material | | |
| Import LUTs, BLG (Baselight Linked Grade) EXR files or CC files with CDL values to populate the Prelight look library | | |
| Grade using the same underlying processing and colour science as full FilmLight applications - no LUTs required with built-in colour space conversions | | |
| Grade using all the colour tools from Baselight, our high-end colour correction system - even shapes and keyers | | |
| Analyse images using scopes and histograms, compare images and keep a library of reference looks | | |
| Export reference stills in any of the common post-production formats, automatically using the appropriate color space conversion | | |
| Export grading values in BLG files, so the grade can be inserted and re-used in the colour pipeline | | |
| View the grade on a reference display via SDI monitoring | | |
| Export 3D LUTs | – | |
| Log shots and associated looks manually or automatically, and export log as an ALE or EDL | – | |
| Live SDI input for capturing and viewing images from the live camera stream | – | |
| Support for driving LUT boxes | – | |
| Support for embedded 3D LUT and BLG metadata directly inside the ARRI Alexa SXT camera | – | |
The upgrade to Prelight ON-SET is entirely optional and is enabled with a licence key that you can purchase directly from our web store. The BLG files produced from the free version are not restricted in any way in terms of the look you have applied to the images, but they do not contain all of the metadata required to automatically link to shots in Daylight or Baselight like a LUT.
---
Simple by design
We've designed Prelight to be a long way removed from a complicated colour corrector. It is based on the same simple-to-operate controls that we developed for the DIT's iPad app on our FLIP hardware box.
But Prelight is much more than a simple LUT generator, which has limited creativity and no way to convey colour space transforms—the transforms that make the look actually meaningful throughout the post process.
Prelight allows images to be colour corrected interactively—by live updating LUT boxes, cameras or monitors directly, or by processing RAW files. Looks can be created and previewed on set or in down time on imported image files, safe in the knowledge that the description of that look is going to be truly relevant and useful.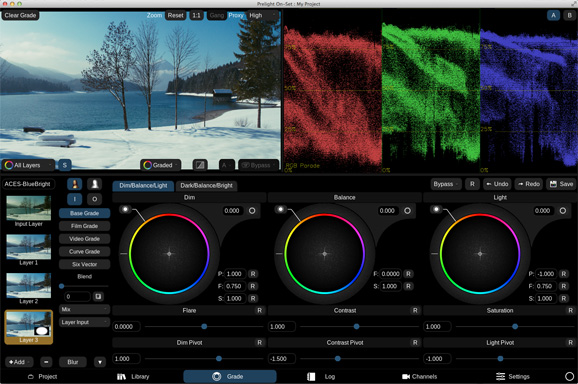 ---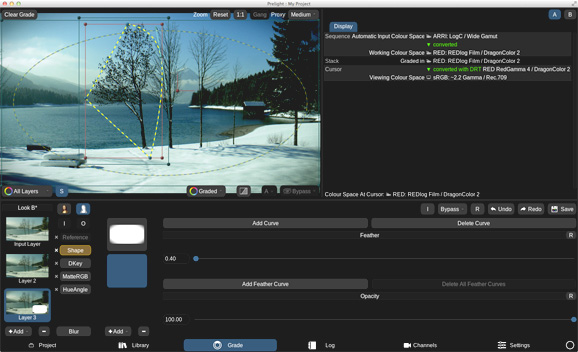 High-end grading at your fingertips
Prelight supports authoring with the full set of Baselight primary and secondary grading tools and these tools behave identically to a full Baselight system, including spatial operations and all applicable inside/outside mattes produced by sophisticated keyers.
For a full list of the grading tools in Prelight, visit the Specifications page.
---
Start the grade on set
Looks developed in the grading theatre during test-shoots can be imported into Prelight, previewed with the latest material and then further refined on-set using simple, yet powerful, real-time grading tools. The looks, which you also create from scratch in Prelight, are then exported back to the grading theatre and seamlessly combined with the original raw camera footage to reproduce exactly the same looks for the final grade.
Even if the look you want can't be represented by a LUT you can still use the LUT approximation for live preview—but then save and pass on a faithful representation of the desired look to other departments.
Your vision at every stage
Carrying forward all of your metadata from set, including the creative decisions you make using Prelight, means the same vision can be seen at all stages in the post-production pipeline. Look data and transform LUTs can be imported directly into Daylight, Baselight and Baselight Editions so you can work on your original raw camera footage with the same looks in VFX, editorial and the final grade.
Of course, you can harness the power of our BLG-based workflow, but the ability to export standard ASC CDL lists and third-party formatted 3D LUTs mean that you can integrate Prelight into any post-production workflow. In fact, Prelight includes tools specifically designed for the CDL grade.
---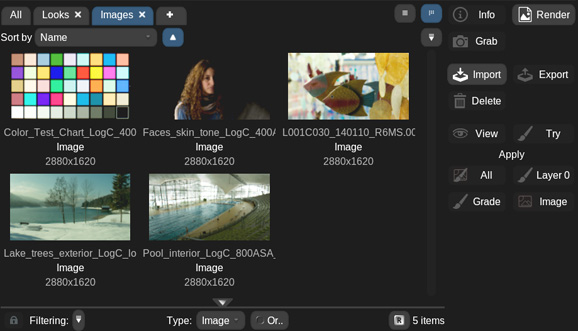 Find and filter in the Prelight Library
The Library allows grades created in Baselight, Baselight Editions, Daylight, or by Prelight itself to be quickly applied. Your previous looks can be recalled easily, no matter where they came from. 

Prelight provides powerful metadata filtering tools, and allows you to save these filters on tabs for easy retrieval of groups of images. Tabs are automatically updated if the metadata changes, too—or you can lock a filter tab if you do not want the list of shots to change.
---
Logging (Prelight ON-SET)
Prelight ON-SET provides comprehensive logging capability. When you are logging shots – either automatically or manually – Prelight creates one log entry for each recorded shot. This entry tracks the look associated with that shot at the point of recording. Looks can then be exported and automatically correlated with each shot in Daylight or Baselight later on or, if you're not working with BLG files, you can export the log as an ALE or EDL to use further along in your workflow.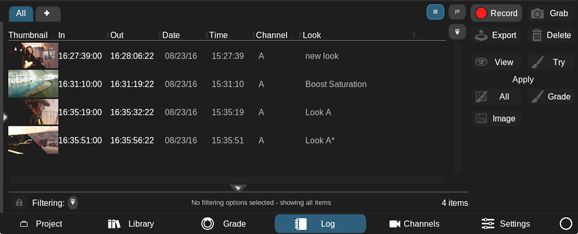 Prelight can connect to supported cameras, such as the ARRI Alexa SXT, by WiFi or Ethernet. The logging system can then extract ANC data from the camera's SDI monitoring output (for SDI devices that support this functionality), including the record flag (so it automatically detects when a shot is recording), timecode and tape name. Prelight can also grab a thumbnail for each shot; this is then used as the BLG poster frame, if you're working with BLG files.
Prelight can grab timecode either from the camera itself, or via its own internal timecode generator.
You can also enter or edit information in the log manually, including capturing the poster frame for the shot, which updates any underlying BLG files automatically.
---
Easy setup with channels (Prelight ON‑SET)
Prelight ON-SET channels provide an intuitive and flexible way to link input and output devices together so that you can easily set up different colour spaces and apply different looks to each 'set' of devices. When you apply a look in the Library, or change the grade in the Grade view, it applies it to all devices in the active channel.
For example, you might want to have an extra channel to experiment with a look on your local display, then publish that look to other channels once you're happy with it. Or you may be using multiple cameras and want to set up the colour pipeline for each camera individually, and apply the same settings to any LUT boxes attached to it.
Alexa SXT integration (Prelight ON-SET)
If you're using the new ARRI Alexa SXT with Prelight ON-SET, the process is even simpler. You can save both the 3D LUT preview of the grade, and the complete grading parameters, directly inside the data recorded by the camera.
Once you connect Prelight ON-SET to the Alexa SXT, it sends:
A 3D LUT representation of the look, which can be used on the Electronic Viewfinder (EVF) and monitoring outputs of the Alexa SXT.
A BLG, which describes the grading parameters and colour space transformations that were used to create the look and 3D LUT.
This information is automatically saved, non-destructively, inside the ARRIRAW files and ProRes files recorded by the Alexa SXT. All you have to do is load these files into Baselight or Daylight and the software will instantly recreate the grading stack used on set—no other files are required.
---
File format and codec support
Reference stills can be imported from any RAW or other file format that is supported by full Baselight systems using the same decode methods, debayer parameters and processing as the final grade. Reference images can be colour corrected and saved in any image format supported by the Baselight software.
See the Baselight Codec Support datasheet for full details.