Meet The Colourist
Philipp Horsch
Senior Colourist & CEO, BFS Entertainment GmbH Munich
Philipp Horsch founded BFS Entertainment GmbH in 2006. The company offers file-based post production services, including 4K HDR workflows, dailies, editing, and IMF/DCP/HEVC deliveries, along with high end digital mastering for high-profile TV Shows. As senior colourist he has graded some exciting projects including two projects both shot in 4K, namely Der Bergdoktor and Die Bergretter, that have proved to be a great TV success in Germany.
How did you make your start in colour?
I got into colour by sheer chance. I was working as Post Supervisor in a German production company and then I decided it was the right time to start my own post-production company. During our initial project, which was for the first German TV series in HD, I was faced with colour for the first time in my life. As I couldn't find a colourist until the project's kick off I decided to handle it myself. What can I say? It was love at first sight. Since then no day has passed for me without spending time on my passion: colour.
Can you describe your facility and everyday processes?
BFS Entertainment GmbH is a small company located in Munich that specialises in digital post-production. Our services range from editing, dailies, design of titles and post-production supervising, through to grading to finishing. Colour correction, however, is the core service of our company. Consequently, all our workflows are perfectly optimised for Baselight.
We usually consult with production teams in the early stages to pick the right camera, then throughout the project until the final master. That means we support the DPs on location, create the dailies, supervise editing and, of course, offer final mastering and colour correction.
What sort of content do you work on nowadays? What draws you to these projects?
We are currently working on four commercial mainstream series. In general, because mainstream shows can be underrated, it is sometimes pretty hard to argue your qualifications as a colourist with a new DP. Amongst other projects we handle two of the most successful German TV series, Der Bergdoktor and Die Bergretter – both shot in 4K on the RED camera. One should not forget, those formats live off impressive pictures and creating them is very complex, as they are both shot at high altitude in the Alps. The locations bring constant difficulties when it comes to doing the grade, such as changes in the weather and frequent changes in ambient light.
Join In
If you want to participate in our MTC programme, we'd love to hear from you. Contact:
Alexa Maza
e: [email protected]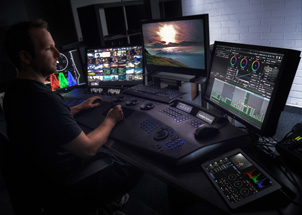 "Sometimes I base my visual creativity on styles of old photography. In my opinion Edward J. Steichen's The Flatiron is a wonderful inspiration for a dark picture."
Details
Colourist: Philipp Horsch
Role: Senior Colourist & CEO
w: BFS Entertainment GmbH Munich
Baselight colourists