Meet The Colourist
Stuart Fyvie
Freelance Senior Colourist, London
Stuart Fyvie is a freelance colourist, based in London, who has worked on many film and TV productions including director Alan Rickman's feature film staring Kate Winslet, 'A Little Chaos', and more recently BBC drama 'The Rack Pack' as well as Christopher Smith's film 'Detour'.
How did you make your start in colour?
I actually started on old black and white films at the BBC. As a trainee back then you began grading for transmission and then transferring to tape. You then moved on to colour when they thought you had enough practice!
Do you recall the first project you colour graded?
The first show I graded and had a credit for was 'Painting the World', a BBC documentary series about the National Portrait Gallery.
What sort of content do you work on nowadays? What draws you to these projects?
I mainly work on features and drama, sometimes documentaries. There are so many different types and areas for grading. Almost everything made now will have a colourist involved.
How many projects can you have simultaneously?
It depends on schedules. Films can often be parked while they await VFX, re-cuts etc. And it depends on your own availability to juggle projects. As a freelancer I can work in several places. But obviously never at the same time.
Can you talk about recent projects you enjoyed?
I recently completed a BBC drama called 'The Rack Pack'. We had a few exterior shots with white flat skies. I went outside, took some cloud shots on my iPhone 6 and then composited them into the show. Baselight's DKey and tracking blended the shot perfectly.
Another project was the feature 'Detour'. I worked on some of Chris Smith's previous films so it was great to be working with him again. And this was being posted at Dirty Looks, which has a very fine set-up so we were able to grade it all in RAW using Baselight in 4K.
Join In
If you want to participate in our MTC programme, we'd love to hear from you. Contact:
Alexa Maza
e: [email protected]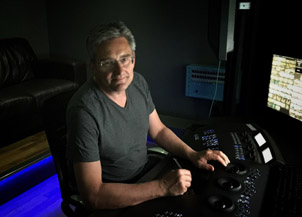 "Remember, you are telling a story. Pretty images in isolation don't do this. The grade is what glues it all together."
Details
Colourist: Stuart Fyvie
Role: Freelance Senior Colourist
w: IMDb
Baselight colourists