Meet The Colourist
Jennifer Mendes
Colourist, Loudness Films, Portugal
Jennifer Mendes is a colourist at Loudness Films in Portugal, best known for her work on Os filhos do Rock (2013), Capitão Falcão (2015), O Patio das Cantigas (2015), and most recently Gloria (2021).
Mendes started working in the audio-visual industry as a motion designer and VFX compositor. She's been a colourist for 11 years and has worked on a variety of content including commercials, music videos, documentaries, as well as features films and TV. Mendes loves to work in different colour spaces and is passionate about creating rich, vibrant, and dynamic colour palettes that bring life to her projects.
Can you tell us about your journey to becoming a colourist?
I was looking for a job as a motion designer when Loudness Films opened its doors in 2011. My (now) boss was opening an audio and image post-production studio in Lisbon and they wanted someone to manage the colour correction suite. They made me the proposal and I went to experiment to see if it was a good fit for me.
My first project was a documentary series. I remember walking into a room of five or more people who were focused on me and what I was doing. I didn't have any experience, but I passed. I took some courses and projects continue to emerge up until this day.
Tell us about your role at Loudness Films.
Loudness Films is an audio and image post-production studio. We have image and audio editing rooms, a Foley recording studio, a Dolby Atmos studio and a colour correction room. We work on all kinds of projects, but mostly our focus is feature films and TV series. I started to do a little bit of everything, but right now I'm dedicated to colour correction work.
Join In
If you want to participate in our MTC programme, we'd love to hear from you. Contact:
Alexa Maza
e: [email protected]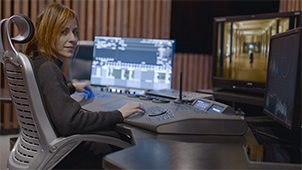 "When I started using Baselight, I had a year with a lot of work. It would have been a much more challenging time if it wasn't for this system."
Details
Colourist: Jennifer Mendes
Role: Colourist
Web: Loudness Films

Baselight colourists & creatives