Meet The Colourist
Swapnil Patole
Senior Colourist & DI Head of Department, Famous Studios, Mumbai
Swapnil is a senior colourist based in Mumbai. Since starting his career 14 years ago, he has graded a plethora of commercials in all genres and for brands such as L'Oreal, Garnier, McDonalds, Honda and Nivea, to name a few. He has more recently worked on feature films, festival short films and music videos, including a project for SONY Music India.
Today he is Senior Colourist and DI Head of Department (HOD) at Famous Studios in Mumbai.
Having originally studied commerce, what brought you into the world of colour?
Everything started in 2003. I finished my studies and was not too sure which direction I wanted to take for my career. One day a friend, who had just started working for one of the most reputed post-production houses in Mumbai, took me to his new work place: Prime Focus. I was totally new to this and I remember being simply mesmerised by the whole work culture and the look of the studio. I visited the grading suite and, I must say, it was love at first sight. I gazed at the telecine grading suite with multi-monitors all around it, just like a big space ship. From that moment, I knew I wanted to work there. Even though I was clueless about the industry and the technical side of it, I just knew.
A few months on, I was fortunate enough to join Prime Focus and started working as a machine room operator. As I now had a goal, I worked hard, learned and slogged day and night and slowly but surely made my way up from machine room to tape operator, telecine negative loader and telecine assistant to then telecine junior colourist. I finally became a colourist in 2007 when I joined Pixion post-production studio. Since then, I haven't looked back. To be where I stand today took hard work, dedication, passion and, most importantly, my love for colour grading. I am, today – as Senior Colourist and DI HOD for Famous Studios – a very content soul.
What did you learn from your past jobs that you are grateful for today?
Each day and every new job helps you to learn and become more skillful. It forces you to be better than before, more creative and productive for your clients. I am extremely grateful that every day I work on two to three commercials, which helps me understand rapidly about treatments, palettes, directors, the visions of DOPs and mixing colours to deliver the best possible grades.
Do you see things with a different eye now than when you began?
Yes, my eyes are more analytical now compared to when I started grading. I now understand better visual treatment, the nature of earth and its light, its people, as well as culture and different aspects of life. I read about colour science, started a 'black book' for grading reference, followed cinematographers work worldwide and worked with the best technicians from India and overseas. I invested these experiences into my grading craft and my work has been significantly fine tuned over the years. And, for the last few years, Baselight has played a significant part in making my work look sharper.
Join In
If you want to participate in our MTC programme, we'd love to hear from you. Contact:
Alexa Maza
e: [email protected]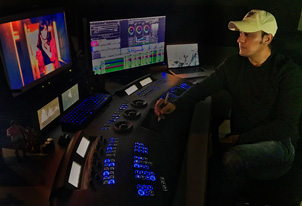 "As a colourist, visually stunning images are more addictive than technical aspects of colour grading. I always try to grade in an eccentric way, as I have always believed that your work as an artist is more recognised when you approach it differently."
Details
Colourist: Swapnil Patole
Role: Senior Colourist & DI Head of Department
Web: Famous Studios
Baselight colourists & creatives