Meet The Colourist
Makarand Surte
Senior Colourist, Redchillies.Color, Mumbai
Makarand Surte was part of the foundation team of RedChillies.Color at the start of 2017, an initiative of Redchillies.VFX in Mumbai. He has worked on many productions both before and since, including the short film Adnyat, which won the National Film Award for Best Non-Feature Film Cinematography in India.
Tell us a little about Redchillies.Color and how you differentiate yourselves in the marketplace?
Redchillies is a household name now, a conversation starter. The minute I say I'm with Redchillies, everyone stops whatever they're doing and asks me, "How is SRK" (Bollywood actor and producer Shah Rukh Khan) I guess that's one of the great ways we differentiate ourselves.
So it was in 2016, when Fan the movie had just been released, when my coworker and friend Ken Metzker and I were approached by Keitan and Harry, CEO and CCO of Redchillies VFX, who suggested the possibility of having a colour grading setup for Redchillies. This was a great collaboration opportunity for our clients and us. And that is how it all started for Redchillies.Color. We were able to move with the majority of our team from Reliance MediaWorks so we have been able to fly right out of the gate.
Our quality, involvement with our clients, understanding of the directors' requirements as well as our vision is what our colourists are known for. Building a good rapport as well as delivering our projects on time; that's how we really set ourselves apart.
Can you describe your colour and VFX services?
Redchillies.VFX has been in the VFX business for 12 years now; we're embarking on our thirteenth year on April 1 2018.  We started the VFX division in 2006 with an eight member team and have expanded to over 400 employees and worked on 35 movies, including two Hollywood and two Chinese productions. Our VFX services include: On Set Visual Effects, Concept Art, Previs, 3D Assets, 3D Animation, Crowds, Creatures, Matte Painting, CG Environment, CG Effects, Compositing, BG Preps, and Digital De-aging.
RedChillies.Color was born in January 2017, and we moved into our new state-of-the-art facility in May of that year. We had a very keen and fantastic team ready to join us. Our aim was to provide a fully-fledged post-production service to the fraternity along with our International VFX division.
We have graded over 22 movies, in regional languages as well as for Bollywood.  We offer services like Digital Colour Grading Features, Trailers & TV Spots, Editorial & Conforming, ACES workflow, Digital Cinema Mastering & KDM Delivery, Digital Mastering for 4K UHD & OTT Content, On Set Services DIT & Dailies.
Join In
If you want to participate in our MTC programme, we'd love to hear from you. Contact:
Alexa Maza
e: [email protected]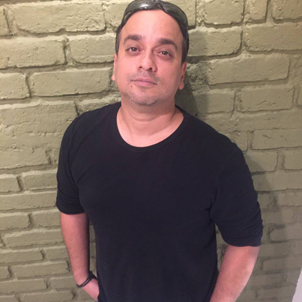 "India is a country of colour, festivals, laughter and mirth. The audiences are used to seeing a lot of colour in movies and as a colourist I need to live up to these expectations, which can be a big challenge sometimes."
Details
Colourist: Makarand Surte
Role: Senior Colourist
w:
Redchillies.Color
Baselight colourists & creatives