Meet The Colourist
Nick Dalby
Colourist, UNIT Studios, London
Nick Dalby has been with UNIT Studios in London for over four years, crafting beautiful images on a wide range of commercials, music promos, short films and, more recently, long-form documentaries.
Here, he discusses his work on visually striking promos for Sampha and La Roux, as well as his journey in colour.
I grew up in Harrow and spent pretty much all of my academic and early career in and around London. I studied art & design alongside music technology at college before heading straight in to work as a runner for a production company M2 Television in Soho.
Can you tell us more about the different paths in your career?
I started out being all about music creation and sound design. It seemed the obvious choice as I was DJing and producing progressive house tracks at the time.
Meeting so many different people along the way meant I got the opportunity to spend time in some creatively inspiring situations, such as building portable edit suites for music festivals including V Festival and Bestival in England.
My fascination with video hardware took me through dailies and QC operator roles, finally ending with me finding my way into the grading suite.
When did you know you wanted to become a colourist?
I still remember in around 2005, while I was a runner, I first started shadowing the telecine guys transferring on an URSA Diamond Telecine and a Spirit 2K - this is when I felt drawn to learning the art of colour grading.
You are also a photographer; does it help you in the grading suite?
Absolutely, I feel they are very closely related. My eye for photography translates into my grading work from a creative point of view as well as a technical one.
Join In
If you want to participate in our MTC programme, we'd love to hear from you. Contact:
Alexa Maza
e: [email protected]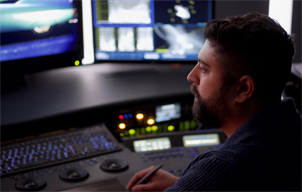 "A music video should be just as interesting and eye catching when watched without the music, just as the music should be enjoyed without the video."
Details
Colourist: Nick Dalby
Role: Colourist
Web: UNIT Studios
Baselight colourists & creatives