Meet The Colourist
Yvan Lucas
DI Colourist, Los Angeles
Yvan Lucas is a veteran DI colourist with a unique international story. His career spans over 30 years and has involved working in 10 different labs, and included creative collaborations with a long list of iconic cinematographers such as Robert Richardson, Darius Khondji and Rodrigo Prieto.
Lucas credits the work he did with Khondji and director Jean-Pierre Jeunet – especially Delicatessen and The City of Lost Children – for launching his international career and leading him to Los Angeles.
I initially studied electronics, but soon realised it was not my path. When I was eighteen I was looking for a summer job. I had the idea of working as a projectionist, so I contacted theatres around my hometown in France. I received several positive answers and picked our local theatre, Le Rex, which was closest to my house.
I ended up staying there for a year and I went from being someone who liked movies to a true cinephile. At the time, the American movies we projected were iconic films such as The Shining, The Elephant Man, Raiders of the Lost Ark, Ordinary People, Kramer vs Kramer... This gave me the ambition to become more involved in the movie business somehow, somewhere.
I decided to move towards editing. I called CNC [Centre National du Cinéma, an agency of the French Ministry of Culture] to ask for their advice. They said I could start to learn editing by doing an internship in a lab. At the time, because film was predominant, this was the way you learnt the craft. And that is how I ended up at Laboratoires Éclair, after being interviewed by Olivier Chiavassa, head of production. I was really motivated - I even lied about owning a car and about being fluent in English... luckily he took me on board! I started there as an intern in 1983.
While today there are colourists all over the world, at the time this was not a profession people knew much about. As a colour timer, I was working exclusively on prints; this is how the dailies and final grading were done.
My mentors were Olivier Chiavassa and Pierre Reali, the best French colour timer of the day. With Pierre I learnt colour timing, and with Olivier I learnt how to discuss with directors and DoPs what they wanted - because colour timing is a technique that everybody can learn, but the most important thing is to understand and interpret the artistic thoughts of the director and cinematographer into colour.
Join In
If you want to participate in our MTC programme, we'd love to hear from you. Contact:
Alexa Maza
e: [email protected]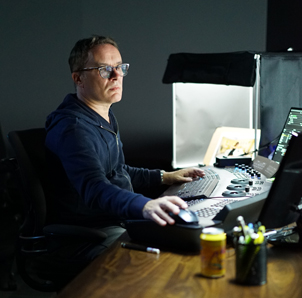 "Think about continuity as the basis of colour grading. Perfect continuity is what makes a good colourist."
Details
Colourist: Yvan Lucas
Role: DI Colourist

Baselight colourists & creatives