Meet The Colourist
Naotaka Takahashi
Senior Colourist, L'espace Vision, Tokyo
Naotaka Takahashi is a Senior Colourist at L'Espace Vision in Tokyo. Throughout his career, he has graded multiple award-winning commercials and several feature films.
Since starting as a two-person operation in 1987, L'espace Vision has continued to grow and invest in new technologies in post-production, while maintaining a creative and adaptive outlook in a constantly changing industry. Today the company provides services from set to final deliverables for movies, television series and commercials.
What is your background? How did you become a colourist?
I started out studying computer science at university before joining L'espace Vision in 2000. At that time, the company was mainly involved in offline editing using its proprietary multi-editing system. So I started out as an offline editor.
Since then I have increased the breadth of my skills. First I moved to online editing, and now I'm able to focus on colour grading, which has really captured my interest the most.
I was lucky to work across a wide range of genres as an offline editor. To be able to imagine and craft unique stories via the composition of your edits is a profound experience – I definitely learned a lot from it.
That led me to develop an interest in the whole process, from offline to finishing, so I challenged myself to get into online editing. Along the way, I got to know a variety of different finishing tools and systems, like Avid DS and Digital Vision's Film Master to name just a couple.
It was at this time that I discovered the ARRISCAN, and came into close contact with film for the first time. I became fascinated by the colours that make up the images, and came to spend more and more time on colour grading.
What is the post industry like in Tokyo? Is it competitive?
It's difficult to say how competitive the Tokyo post industry is – it services such a wide variety of productions from high-end feature films to many, many medium- and low-budget productions. That certainly keeps it vibrant. To keep ourselves competitive in this environment, we focus on proposing optimised workflows and making them happen.
We do have the Japan Post Production Association, which is a great forum to share information between post houses like ourselves, as well as vendors and resellers.
Join In
If you want to participate in our MTC programme, we'd love to hear from you. Contact:
Alexa Maza
e: [email protected]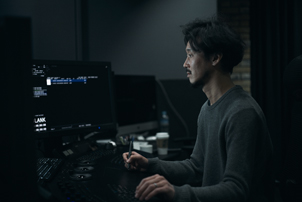 "Each work has a theme and intention, and it's incredibly important (and quite exhilarating) to truly understand that intention and express it correctly."
Details
Colourist: Naotaka Takahashi
Role: Senior Colourist
Web: L'espace Vision
Baselight colourists & creatives