Meet The Colourist
Paul Ensby
Senior Colourist, Picture Shop, London
Paul Ensby has been working in the industry for over 30 years, following in the footsteps of both his father and his grandfather.
Throughout his career he has worked with a vast number of high-profile clients on features, award-winning episodic series, and Academy Award-winning documentaries. His first foray into digital intermediate was Kingdom of Heaven, directed by Ridley Scott and shot by John Mathieson.
A long-time collaborator with filmmaker Asif Kapadia, Paul worked with Asif to grade the intricate moments on Senna, Amy, and Diego Maradona. Most recently, Paul finished Avenue 5 for HBO, written and directed by Armando Iannucci, and Nolly, directed by Peter Hoar and written by Russell T. Davies.
Paul's creative expertise and subtle understanding of colour and detail, partnered with his calm nature, is what draws clients back to work with him again and again.
Tell us how you became a colourist. I believe it runs in the family?
Yes. A long, long time ago, in a galaxy far away… my grandfather and father worked at the Technicolor film laboratory, so it is certainly in my blood. My grandfather worked in the solutions department and my dad was a colourist, on 16mm TV – because, back then, the features and TV departments were very separate. And then he became a lab contact liaison for Warner Bros., seeing the films right through from shoot to cinema.
I started in 1990 in the printing department and then a role for a trainee 35mm feature timer came up. I was young and a bit of a 'lifer' in their eyes, with the family connections, so I was given the role. A couple of years internal training later I was set loose on the filmmakers of the world and then, once I'd completed three features, I was elevated to the role of a senior feature timer.
So, there I was, in my twenties, unleashed into film grading – which was very different to what it is now. It was primitive, but also just as important to the filmmakers as it is now, and it was a bit of a dark art – all done by eye. A lot of those practices though, I still use today.
How has your role as a colourist changed in the last 30 years?
I started when I was still relatively young, around the turn of the century when digital grading was on the horizon. It was a mixture of what was happening in the telecine and VFX worlds. Back then, they would scan the odd shot in VFX and it would be graded and dropped back in. But then someone clever had the bright idea of scanning the whole film and doing it that way – and this became the 'digital intermediate', as they called it then.
Being young and foolish enough to put my hand up and say 'I'll have a go', I did just that. Technicolor was early to it, as they had their own department to follow in the States so could make the transition. So, without knowing it, I was one of the forerunners of grading digitally in the UK, exclusively for feature films at that stage. Though back then, of course, it was slower and processing power was churning away a frame at a time.
Join In
If you want to participate in our MTC programme, we'd love to hear from you. Contact:
Alexa Maza
e: [email protected]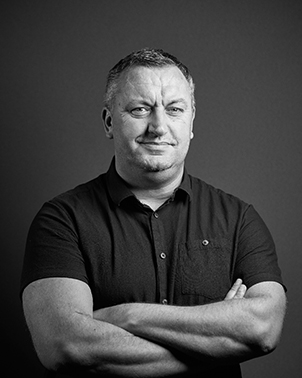 "Working with Ridley Scott was great. Some directors are about the acting or performances, but he is about the whole thing. He doesn't miss anything."
Details
Colourist: Paul Ensby
Role: Senior Colourist
Web: Picture Shop

Baselight colourists & creatives