Meet The Colourist
Rahul Purav
Senior Colourist, Futureworks, Mumbai
Senior Colourist Rahul Purav was responsible for the look of three of the most popular movies in India in 2016 – Sultan, Banjo and Sanam Re – each with very different looks and requirements. In this interview he talks about his experiences working on these three films, and more…
Tell us a little about FutureWorks Media.
Founded in 2007, FutureWorks provides cutting- edge post- production services to filmmakers for feature films, commercials, music videos and trailers . With state- of- the- art facilities in Mumbai and Chennai, led by industry- experienced personnel , FutureWorks offers creative services in VFX, DI/Colour and Sound. FutureWorks has been one of the early pioneering partners with FilmLight in colour management. We have worked on more than 70 international projects as well as countless domestic projects.
As a colour grading tool, Baselight offers incomparable colour science and flexibility. Our clients have always been very satisfied – especially that we are able to deliver multiple format outputs at the same time.
Can you tell us about your colour DI set-up, and your overall workflow including sound and VFX?
At FutureWorks, we have two Baselight suites. They are integrated with our high-speed network, so we can share projects seamlessly across both of them. This ensures that during tight deadlines, we are able to use both suites to their full potential.
We also find ourselves at an advantage when bringing finished VFX into Baselight and syncing audio for final conforming. VFX shots can be dropped onto the timeline as they are completed, with conforming and matching carried out in Baselight to provide a one-stop finishing process. The process is executed simultaneously, ensuring that our grading sessions are never disrupted and the colourist gets full control as well as time for finishing.
Join In
If you want to participate in our MTC programme, we'd love to hear from you. Contact:
Alexa Maza
e: [email protected]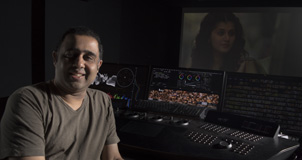 "FilmLight has given our clients immense confidence in our output. And, with Baselight in our workflow, our clients remain very pleased with the end result."
Details
Colourist: Rahul Purav
Role: Senior Colourist
w: Futureworks
Baselight colourists & creatives