Baselight Editions
Sophisticated colour grading
Not all facilities require the power and functionality of a full Baselight system, however most people strive to create the highest quality images using the best tools for the job.
Baselight Editions provide the same core toolset as the full Baselight systems, with the same graphical user interface but as a software-only package which can be incorporated into an existing NLE or VFX workstation. This approach delivers FilmLight's high quality grading tools and Truelight colour management directly into your workstation, and as the Editions share the same data structures as the full Baselight systems, projects can be seamlessly transferred and shared between users and facilities.
The first products to be released in the Baselight Editions range are:
---
Flexible Licences for Freelancers
We've created new licencing options especially for freelancers, so you can easily move a licence to a new system when a job finishes. When you activate Baselight for Avid, you'll have the chance to choose a duration. The smallest duration is one day and there is no limit to the number of times that the licence can be activated.
One Licence, Multiple Editions
If you want access to the power of Baselight within a host of different applications, there is no need to buy multiple licences.
So long as the applications are installed on the same system, purchase one licence in the Baselight Editions range and you get access to all Editions on that machine.
---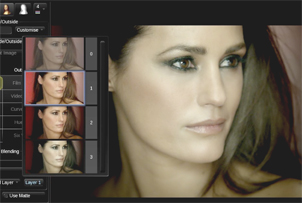 Layer Blending
Blend the output of a previous layer into the current layer by any amount you choose and using any of the available Photoshop-style blend modes, such as Mix, Add, Lighten, Darken, Overlay, Screen and so on.
Find out more in our Baselight Feature Tutorial.
---
Instant grade recall with Scratchpad
The Scratchpad is designed for fast and simple saving and retrieval of looks (or grade stacks). Grab versions of stacks, cycle through Scratchpad slots, compare two versions or show all versions for a quick, at-a-glance view of the Scratchpad contents.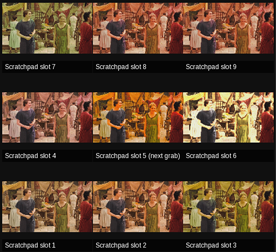 ---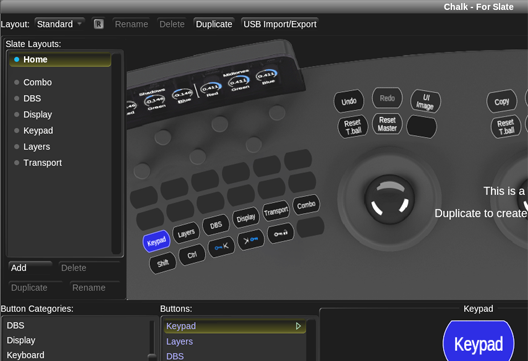 Ultimate control
Baselight Editions support the Slate grading control surface, which can be completely customised to your preferred way of working using our Chalk application
The entire product range also supports the Avid Artist Color and the Tangent Element and Wave panels.
Control is definitely a matter of choice.
---
Unlimited Layers of Colour
Baselight can be applied to any or all clips in your timeline allowing you to add multiple grading layers to each shot. There is no limit to the number of layers you can 'stack' allowing you to build up complex corrections to obtain the exact look you require.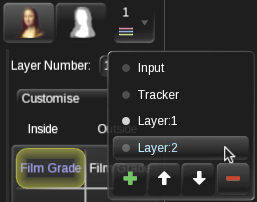 ---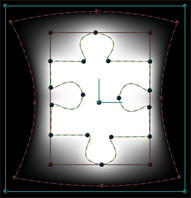 Built-in Keyers and Matte Generation
Two separate grading or filter effects can be applied 'inside' and 'outside' of a matte, within any layer of a Baselight grading stack. Mattes are generated using a combination of built-in luma/chroma/3D keyers, bezier shapes and various modifiers allowing full adjustment of roll-off, softness, choking and so on.
Baselight also provides variable shape feathering, so shapes can have differential softness, but without ever suffering from the folding and edging that occurs with other solutions.
---
Unrivalled Colour Space Management
Truelight Colour Spaces allow colour space conversions to be performed with the speed, accuracy, and dynamic range permitted by native floating-point GPU functionality. They can be defined externally of Baselight formats, and have a powerful function set that allows complex transforms formerly only possible with 3D LUT mechanisms.
You can find out more about Truelight Colour Spaces and how they support an ACES workflow on our Colour Management page, in our Feature Tutorial, or read our Workflow Guide.
GPU Scopes
Baselight includes built-in Vectorscope, RGB Parade, YCbCr Parade and Luma Waveform displays plus a high-precision histogram. Accurate levels are displayed along with an indication of 'illegal' colours. Each scope can be displayed within the Baselight UI.
Find out more in our series of Baselight Feature Tutorials, starting with the RGB Parade.
---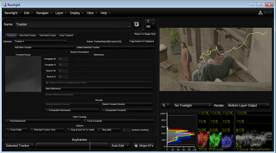 Automated Tracking
Baselight's automatic tracking system provides several options so you can track objects throughout a shot: one-point, two-point, or the area-based tracker. The area tracker allows you to define an area in the image rather than individual points and the system will accurately track the translation, rotation and scale of the object.
Find out more about the area tracker in our Baselight Feature Tutorial.