Restless
Famed printer Pascal Dangin uses Baselight to grade new Gus Van Sant film
NEW YORK—Gus Van Sant's new film, Restless, which recently made its world debut at the Cannes Film Festival, is a bittersweet coming of age story about a terminally ill girl (Mia Wasolpwska) who falls in love with a boy (Henry Hopper), who crashes funerals and whose best friend is the ghost of a Japanese kamikaze pilot. The film is alternately funny, quirky and sad, and, although death is ever lurking, is ultimately the story of the two characters' commitment to each other and to life.
Colour grading for the film was performed by Pascal Dangin, the legendary photo retoucher and founder of the New York creative agency Box. Dangin, who is widely acclaimed for his work for the world's luxury brands and fashion magazines, had recently expanded into motion imagery. He formed a new division of his company, Boxmotion, and purchased a FilmLight Northlight scanner and Baselight colour grading system so that he could provide colour grading and finishing services for commercials and feature films.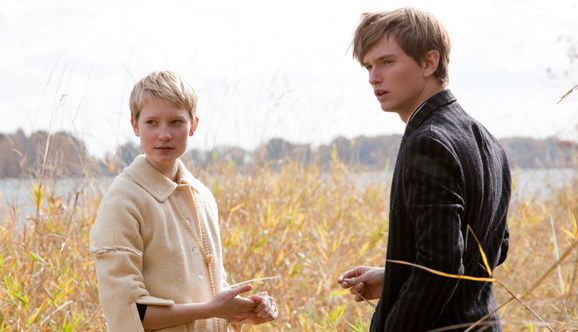 Dangin was approached about grading Restless by Harris Savides, the film's cinematographer, who also had roots in the fashion industry. Savides, whose credits include four previous films for Van Sant, likes to shoot with natural light and often underexposes his film in order to produce delicate images and soft colours. In Dangin, he found an ideal collaborator.
"Mr. Savides described the delicate balance of colors and contrast needed for the story," Dangin recalls. "We used contemporary photography as references. The love story and pain in the film had to be rendered with very little artificial light to bring a certain sense of reality and documentary quality. At the same time, the scenes had to be treated like paintings, with dodging and burning darkroom techniques enhancing one detail or the other in a shot to guide the viewer's attention very precisely."
Although this was his first time working on a film, Dangin said that the creative dialogue he carried on with Van Sant and Savides was similar to what he was used to in print photography. "The processes are the same, but the timeline is different," he says. "Pre-production is a very lengthy process."
"Being involved the way we are (with Van Sant and Savides), demands time to understand the vision and objectives," he says. "We need to develop a visual language and an image dictionary for the film. Like all things, it takes time."
Dangin notes that he selected Baselight for his grading platform because its toolset closely matches the tools he employs when working with stills. "The RGB color tools in Baselight are the same as the ones you find in traditional still photography applications," he explains. "Most systems rely on separating the gray-scale component of the image from the color information. As such, it does not respect the original photographic intent of the shot."
"Disassociating the two results in an 'un-photographic' look. Whereas in an RGB model, color and contrast are linked the way film is. When you desire less contrast you also change the color saturation."
From an aesthetic view, Dangin's approach to grading Restless also drew heavily on his experience in still photography. His aim is to apply subtle, finely calibrated adjustments, in order to preserve the integrity of the film and the intent of the filmmakers.
"There is a scene in which the principal characters are discussing a book," he recalls. "It was very dimly lit, and the temptation to increase contrast, to bring out the highlights of the subjects to the foreground, was hard to resist. Doing so would have increased the clarity, but decreased the emotion. It is challenging when the scenes are just at the tipping point of the tonal scale. They are difficult to maintain especially when you go back to a negative film out."
Dangin enjoyed wrestling with such challenges and is eager for more. He is currently working on three new films that is exclusively a FilmLight workflow, from scanning on the Northlight2 to color and final conform on the Baselight systems. Boxmotion has purchased two additional Baselight systems to keep pace and optimize workflow. "I began to feel drawn to motion pictures a couple of years ago, and feel that in order to communicate brand messages and emotion, I needed to include motion in my work," he observes. "I am very excited about these new films... and I love working with Baselight."