Meet The Colourist
Andrea Chlebak
Lead Colourist, Digital Film Central, Vancouver
Andrea Chlebak, Lead Colourist at Vancouver's Digital Film Central - recently responsible for Neill Blomkamp's blockbuster Elysium - explains how she ended up in post and landed her first job in the 'colourist's chair'. She explains why being a great colourist is like being three separate people and why she has so much love for actor Christian Bale and actress Cate Blanchett.
How did you start out in post and become a colourist? Was it luck or a ready mapped out plan?
I love that one – Luck. Isn't it always luck?
Well, no, it wasn't really mapped out. I studied film at university and because I attended art school I ended up studying media arts from an artist's perspective. When I got out of school I started working in what I knew best, which was photography.
I worked on-set as a stills photographer and over the course of a couple of years I spent time compositing and editing on independent projects. I soon discovered that editing was actually quite true to my sensibility and personality, so I worked as an independent film editor alongside working on-set.
I then got an opportunity to work in animation doing multiple forms of media – working with colour, compositing and picture editing. I spent a lot of time putting together reels and showing them to people, and at one visual effects studio the production manager said to me, "You know, out of all of your work, you have a really good sensibility for colour and finishing." She then said, "Have you ever thought about being a colourist?" I was like, "No, what's that?" I guess I naturally colour graded my work through whatever tools I could find – I spent a lot of time Photoshopping and figuring out creative ways of achieving what I was imagining, because I didn't have the production tools available to me like I do now.
This idea sat in the back of my mind for a couple of years until I got an opportunity to work with the former Central, which was Digital Film Group, where we shot film from digital sources so it was like a film transfer facility. The work that we did there always required a creative eye, and this is where I really became interested. I got to go to the lab and spend time with film processing and colour timers and really got to see the differences between looking at something on a digital screen and seeing it on film.
Then we transitioned into Central and became a full DI facility, right at the cusp of DI becoming a big thing. It was here that the opportunity arose and I remember saying, "Right, I want to sit in that chair. How do I do that?"
It was really great because it was so well timed. We were starting from a clean slate, trying to build a team of about 10 or 12, and of course we wanted a colourist. So, here I was with a really good command of Baselight – as I was fully trained and played a major role in the decision to purchase the system –so when one of the first DI features came through our doors James (Tocher, Owner & President)  said, "Well, Andrea, what do you think? Do you want to do it?"
I remember it was a fantastic feature. The director of photography was incredible to work with and the director was one of the executive producers from the X-Files, so it was a wonderful team with a lot of experience. Still, they completely accepted me and showed me their way, but also let me do my own thing. So, after doing one feature and proving I could do it, my career just evolved from there.
So, I suppose you could say it was a little bit of luck in getting there. But I think you always have that natural tendency that shines through and puts you where you're meant to be.
What sort of content do you work on?
We're pretty much feature films and documentary features. We do a bit of commercials and a bit of television. A lot of made-for-TV movies as well, so still feature length stuff.
What projects have you been working on recently?
We're working on two big films at the moment.
The first one is called The Prophet, which is actually an animated feature length film based on Kahlil Gibran's classic 1923 book of poetry. It's a really beautiful animation with some really inspiring work in it. It's directed by Roger Allers, who directed The Lion King and wrote Beauty and the Beast and Aladdin. So for me, it's a really inspiring experience because his work is something that had such an impact on me when I was a child – I dreamed of being an animator for Disney and longed after original cells from the movie. You could say it's kind of like meeting my hero, even though I wasn't really aware of the "director" so much as a kid.
The second is Neill Blomkamp's film, Chappie, which went into production right after we finished Elysium. It's a similar team (VFX and editorial) to the last time so we're really looking forward to working with all those people again – and we all know each other and how we all work so it's just really fun.
What natural skills do you think lend themselves to being a successful colourist in your field?
I think this is always a good question as there are a lot of things that can make a colourist good. If you have an eye for colour, obviously, you can do really good work. Also, if you're just a really good person to work with, that can make the experience great even if the result isn't necessarily mind-blowing.
The key thing for me, though, that really differentiates a colourist is that you need to have a grasp of the technical side of things and you also need to be naturally creative. But, what I'm starting to realise you also need – even in myself, when I really start to see my work shining and coming to life – is to take a step back and watch as if you were in the audience. The Technician, The Artist and The Audience – if you can maintain those three perspectives while you're sitting in one chair, I think that is what really makes a colourist go from being good to excellent.
Anyone can push buttons, really, and there are a lot of creative, artistic people in the world, but to be those two things and be able to offer your client an actual perspective that is different from theirs, and be confident with it - that is what provides a real collaboration. Someone said to me the other day, "Wow, you actually made me like my own film again. I've been seeing it for months and months, and then finally I get to see it through your eyes." I think when you're sitting there trying to finish your film with that experience, you need that extra push to go and finish it. To just do a monotonous task and direct someone to colour grade your film is one thing, but I think where you get a really awesome experience as a director, DoP or as a colourist, is when you can actually discuss different perspectives on things and experiment. You can then come to a result that you may not have even imagined.
Tell us about your DI suite and Baselight set-up? What specific BL system are you using and how does it fit into your workflow?
We currently have one main DI suite with a Baselight TWO and a Christie digital cinema projector. This is pretty much at the helm of our operations and Baselight is the centre of it. Central is all about integration and workflow so what we like about Baselight is that it allows us to innovate around it and yet remain flexible at the same time.
Our current space is a 12-person theatre and we're in the midst of building a new 40-person, 4K theatre that will be a more flexible space with a 26 ft screen, providing a really immersive experience. The new suite should be up and running by the middle/end of this year, which is really exciting.
Can you describe if/how Baselight increases your productivity and creativity?
Whenever I meet someone who hasn't seen Baselight, and they ask me what the difference is between Baselight and Lustre or Resolve, for example, the first thing I say is power – Baselight is such a powerful system.
Being able to sit with a Blackboard panel and have that immediate response (which we all take for granted by the way) also makes it unlike any other system. It's so intuitive that it allows you to get to 10 different places very quickly, so a director can see 10 different versions of their film before they've even spent five minutes in the room. That's not only efficient, it's also a really great creative experience and helps build confidence in what you're looking at. This confidence makes your productivity so much greater as well, because you see your options faster and have the confidence right away to proceed. There are no doubts later on in the process. If the client wants to see something different I can do it in 30 seconds, and then we can move on.
Can you tell us about 'real time' in the DI process?
Something else that's really amazing, and part of this, is that the client always sees exactly what you're doing in real time. I barely look at the actual interface as I'm always looking at the screen – which is also where the client is looking. So, when I draw a shape the client sees, instantly, that I'm drawing a shape and they can see Baselight responding very quickly to all the colours and hue shifts that I'm making. I don't have to spend time talking about what I'm doing, we can talk about the movie we saw yesterday or the director we met that we found really inspiring, instead of talking through every single step. They see it all and it's all communicated for you. I think this is also a huge, huge benefit in terms of productivity and creativity.
With the gap closing between production and post, do you find yourself getting more involved earlier on in production?
We've always wanted to have more collaboration with the on-set side of things, so when the film is shooting they're considering how it's going to look and maybe have the tools at their finger tips to preview that.
We haven't had a huge opportunity to work with FLIP, but that's one of the things we want to work towards in the future - providing more looks on-set so that the dailies colourist or the DIT can have some reference to what the DoP will see in the DI environment.
They're two totally different things and it's definitely something that's been difficult to manage because they're completely different worlds. When you're on-set and shooting you have a different way of seeing and, rightly so, the DoP needs to focus on lighting and camera angles, etc. Then, in the dailies tent, the colourist needs to ensure exposures are right, the footage is acceptable and that the DoPs are getting what they need.
In one way, I think this is all you should have to see on-set, because I don't think that final decisions should be made in that environment. At that point it's not a story, it is still footage and individual shots. However, I am starting to love the new consultancy role that Central is taking on. There are a couple of directors that I've worked with who, over the last two years, have come to me before they even start shooting. They ask my opinion and we share ideas and talk through looks or films we have liked the look of that can become inspiration for them later. So some of this has been going on for a long time in a much smaller way, but I see more and more now – even with projects like Chappie for example, with Neill – the conversations are definitely starting to take place earlier.
Do you think that dailies and DI colourists should become more of a team then?
Absolutely. The dailies style of grading is definitely unique, but perhaps they could have a set of DI looks to preview or potentially apply while they're working so it gets them closer to where they want to be. And then the same LUTs and grades can be transferred over to DI so the DI colourist has a better starting point – having a colourist that has end-to-end involvement could be very valuable to the creative leads on the film. Potentially the DI colourist and Dailies colourist could spend more time together, so the two individuals actually collaborate. It would definitely make both sides more productive and efficient and this is something that we are always trying to achieve at Central. It also means you get way more creative time in DI, because you won't be spending as much time doing basic colour correction.
Baselight is so powerful that it almost seems like a waste using it for basic matching. It would be nice to have 100% of that time to be creative.
So what do you like to do after you have been in a darkened room all day?
Not be in a dark room.
Although, I do really like to watch movies, especially during the winter months in Vancouver when it rains a lot. When you leave a dark room and it's dark outside it's not really a big deal to just go and spend more time in another dark room. But I don't see hardly any films in the summer months really, because it's so nice out.
I'm not super outdoorsy, but I do like to get out on my roadbike - I find that it's a nice contrast to sitting in a chair in a dark room. I spend a lot of time outdoors, cooking dinners and playing with my dog. Honestly though, sometimes just being in a coffee shop in the daytime is a great break for me, also because have a bit of a caffeine habit.
I also spend a lot of time doing photography still. I find photographing the world and being creative with light and colour really helps me when I come back to the suite. It's a different practice, but they really complement each other.
I'm definitely inspired by artists in general and filmmakers like Michel Gondry, Spike Jonze and David O. Russell. I think that it's filmmakers like these who are going to push the story-telling medium, and I'm really inspired by this. I feel like I have such a subtle effect on the film and working with somebody who is really pushing what they're doing helps take your work to the next level.
On
Elysium
I was pretty influenced by Syd Mead, the concept artist for the movie, who also did all the imagery for Blade Runner and TRON, among many others. What strikes me about Syd is that he has a really unique way of seeing the world and, at past 80 years old, he is still creating images and concepts. To be constantly inspired and producing such amazing work is, in itself, inspiring.
If you could have graded any movie in your lifetime, what would it be?
Without a doubt it would be Days of Heaven. For me it's one of those movies that just stands out and is so visually stunning. To colour grade it now would be such an interesting experience. Firstly, working with Terrence Malick – who only produces one film every 5-10 years – and also because the film was all shot at a single time of day so it would be like having the most beautiful photography at your finger tips and would be a real treat.
Who is your favourite actor, and why?
Up until a few years ago I would have naturally said Johnny Depp and not given you any excuse. I still have a Jack Sparrow Pez dispenser on my desk that someone gave me in recognition of my obsession.
But, you know, I have 'matured' in my tastes over the last few years. I'm now definitely between Cate Blanchett and Christian Bale. Both of them are such transformative actors that you don't notice their celebrity identities in their characters. I don't  think of Christian Bale when I see him in films – I see Bruce Wayne or Irving Rosenfeld in
American Hustle
. He is really a chameleon to me and Cate Blanchett is just the same, she is just stunning and her performances are so immersive, they're both incredibly talented.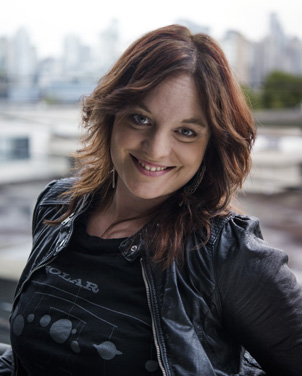 "Whenever someone asks me what the difference is between Baselight and other grading systems, the first thing I say is power."
Details
Colourist: Andrea Chlebak
Role: Lead Colourist
Company: Digital Film Central, Vancouver
w: www.digitalfilmcentral.com
Check out Andrea's talk on 'Colouring for Film' for CreativeMornings Vancouver.