Meet The Colourist
Andy Minuth
Lead Colourist, 1000Volt Post Production, Istanbul
Originally from Germany, where he worked as a DI colourist, Andy Minuth is now Lead Colourist at 1000Volt Post Production in Istanbul. Passionate about colour, Andy manages to mix deep technical knowledge of image processing and colour management with creative instincts. He embraces both western and oriental cultures as part of his everyday life and admits that his most challenging role is still to come − as a future dad.
You started as an editor. What brought you into colour?
I always had a passion for working with images. Photoshop, motion graphics, and so on. I enjoy all of that. Sometime around 2003 (while I was working as an Avid editor), I heard about colour grading. I instantly became eager to learn more and gathered as much information as possible about it. It seemed like the perfect mixture of creativity and cutting edge technology for me. I mapped out a plan to become a colourist, went to university, and after graduation applied for a junior/dailies colourist job. From there it was a lot of hard work and many night shifts.
I actually love it when a plan comes together.
In 2015 you moved from Munich to Istanbul. Has your work changed across those countries?
In Germany I was mostly colouring features and, to some extent, episodics for television and archival projects. However, at 1000Volt in Istanbul my main focus lies in commercials, though I do also regularly colour feature films.
Comparing both countries, the final results are not that different. But you can feel the Mediterranean sun here, so generally my images tend to be a bit more colourful and brighter.
You graded The Mountain II, the highest grossing drama film in Turkey last year. How did you create the looks for this story?
My fundamental approach to look development is to avoid fighting against the material and to follow my instincts. Most of the time, you are on the right track when you enhance what is already there and work more intensively on the few problematic shots that are not matching.
Alper Caglar - the director of the film - is a true auteur filmmaker. Before I started with the project, he gave me a list of movies to watch at home in the evenings. This really helped me get into the right mood for his film, which is a realistic war drama about a special ops team behind ISIS lines. Usually the box-office blockbusters here in Turkey are comedies. I was surprised and very happy about the incredible success of The Mountain II, because it is an independent genre film.
Alper was busy finishing the edit and sound while I was working on the colour. In total we only met a few times for a couple of minutes, but I regularly sent him reference stills and collected his feedback. He trusted me from the beginning and we were able to develop a good relationship.
The first day I developed specific LUTs for the project based on a Kodak print emulation. I aimed for more definition in the shadows than print film but with a similar color palette. Additionally I extended the range in the cold tones a bit.
Alper had a very precise idea about the look of some scenes and provided me with his grades for some shots. I translated them to P3 with Truelight Colour Spaces and matched the other shots in the sequence. For the rest of the film he was open for my suggestions, which I built utilising the custom show LUTs. One of my challenges was to make the images flow along with the story, which contains a lot of flashback sequences.
Is there a specific scene or sequence in this film that you found particularly enjoyable or challenging?
We received the last hour of the film just three days before the delivery deadline. That part contained the final climatic battle sequence with thousands of cuts and many effects. It was quite a challenge to finish that sequence on time. We made it - and the Baselight system never let me down during that intensive phase.
About look development… to you, how much of this process relates to the underlying colour science and how much to the grade?
There is one part of my job that I find particularly enjoyable: I call it colour engineering. It consists of selecting, applying and tweaking the right colour science for a specific job. In my working style that is a fundamental part of the look and an important part of the grade.
I divide my job into two basic parts: first finding and tweaking a "process" for the project; and then adjusting the individual shots to fit into that "process". Ideally the fitting is just an exposure correction. But in real life it could also take 20 layers.
Can you tell us about the grading on Turkish horror-thriller Baskin?
Baskin was my first feature film project in Turkey. And to that date one of my most favorite ones. The film is a nightmarish trip of a group of cops into hell, and it contains a lot of surreal imagery. Director Can Evrenol and DP Alp Korfali experimented a lot and selected a very wild color palette for the film. That gave me lots of possibilities to play around. I took inspiration from famous Italian horror masters of the 1970s and 1980s, like Lucio Fulci or Dario Argento, and tried to find a contemporary version of that colourful and gritty look.
At our first meeting Can realised that I am a true horror fan; from that day he gave me an incredible amount of freedom. I put special attention to the texture of the movie, working with the Diffusion and Grain operators in Baselight.
What I love about Can is that he is so open-minded. One anecdote: probably the most memorable cut in Baskin is when the minibus full of cops is driving along a road and passing the camera. In the next cut the frame is upside down, as if they are passing over to another dimension. Originally it was not intended like this, but a Flip/Flop got automatically applied twice within Baselight by accident. When I saw that cut, I instantly fell in love with it and showed it to Can. He also liked it and it ended up in the movie as well as in the trailer.
For those who enjoyed Baskin: I just finished my work on Can's second feature film Housewife. It has very iconic imagery and is shot in the English language.
What do your clients like most about what you can offer with Baselight?
With Baselight, I feel kind of limitless and incredibly confident. Although they usually have no deep knowledge about the technical details, the clients can sense how the colourist feels about his tools. And that makes them more confident as well.
Some clients come into the grading session with headaches about particular shots or scenes. Often the shooting conditions were not optimal, for example. With Baselight I can offer them solutions very fast and reassure them that their project will look great.
How do you keep current with emerging technologies?
I think you never should stop learning. Otherwise life gets boring. Additionally I teach regularly, which intensifies knowledge.
Besides that, I try to visit tradeshows like IBC in Amsterdam, and keep a close relationship with FilmLight, who are great educators, and have a regular exchange with people smarter than me.
Would you say you are a 'technical' colourist or would you rather prioritise instincts?
For the creative part I tend to trust my gut feeling and listen very carefully to the customer. Technical knowledge helps you to find solutions when your instincts are telling you that something is not right. Additionally it makes you push boundaries and helps navigate around or find efficient solutions to problems.
I have a strong technical background, and I think that it is getting more and more important for colourists nowadays. But when I am in the tunnel working on a series of shots, I am driven mostly by instincts and very rarely check the scopes, for example.
Just recently you wrote a review on Baselight 5.0's Base Grade. Is it a tool you'd recommend to other colourists? If so, why?
It's big news. It feels like they just released a new season of the show about colour grading and colourists should not miss it!
Base Grade is a more natural approach to grading and a high precision tool to sculpt the gradation of images. I'd recommend everyone to read the full article.
How do you approach grading projects when we now see such a diverse range of delivery technologies? What is your grading strategy to optimise trim passes for all of those different deliveries?
First, I work in a scene-referred colour space. That broadens the possibilities for the output.
Second, I try to be aware of the different outputs while grading. So I might put a slight gamut compression into my grade, for example.
Lastly, I trust Truelight Colour Spaces, which is built on scientific research. I don't think that I can do the conversions to different output colour spaces better than the smartest colour scientists. When I check the different outputs I am doing just minor trims, colour-wise. But the image-texture still needs manual adjustments.
Can you explain why, for you, Truelight Colour Spaces and ACES "allow colourists to minimise initial color matching and focus more on the 'creative work'"?
When you set up the colour journey correctly within Baselight, including input and output transforms, the image looks "right". Which means, roughly as it looked on the set when it was shot. That is the perfect starting point for the grade, because every change you make from that point on is for artistic reasons. When you have to manually adjust different camera encodings, you lose a lot of energy and time struggling with something that could be solved by the computer automatically. The same is true for the different output formats. Why should we ignore the scientific achievements?
Where do you find inspiration?
Just by living. Istanbul is the most inspiring city that I have ever experienced. Here you can find 2000-year-old buildings from the Roman Empire as well as modern skyscrapers. Western and oriental cultures mixed together. Such a diversity of textures, sounds, odours and colours. And everything is changing so rapidly. The city has an enormous energy.
Apart from that I try to immerse myself in all kinds of visuals. Paintings, photography, movies and so forth.
If you had to pitch the Baselight grading system to your clients, what are the top three things you'd tell them?
Baselight is the fastest way to achieve what you desire.
The Blackboard control surface is the best in the industry. It is so robust and after a while it feels like a brain extension.
FilmLight's philosophy and communication are totally dedicated towards professional colourists. The support team, the sensitivity to customer feedback and the development strategy are all amazing.
What do you do to de-stress from it all?
Having a walk or a run along the Bosphorus from time to time. And as weird as it sounds, after a long day at work I can relax really well while watching movies at home.
My lovely wife is due to give birth to our first child in a few weeks. I am extremely excited about that.
Join In
If you want to participate in our MTC programme, we'd love to hear from you. Contact:
Alexa Maza
e: [email protected]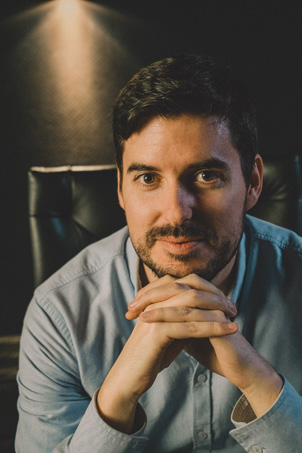 "When you set up the colour journey correctly within Baselight, the image looks 'right'. That is the perfect starting point for the grade, because every change you make from that point on is for artistic reasons."
Details
Colourist: Andy Minuth
Role: Lead Colourist
w: 1000Volt Post Production