Meet The Colourist
Daniel Amado and Juan Magana
Colourists, Color Space
Daniel Amado and Juan Magana, colourists at Color Space in Mexico, discuss their relationship with FilmLight's Baselight and explain why, in their opinion, it is the best colour grading system on the market today.
How did you get into the job as a colourist?
When I was studying engineering I worked on the operation and maintenance of video tapes. While doing this I developed a great passion for film and took the opportunity to gain some work experience in the area as an assistant in telecine. My boss at the time, who was one of the top Mexican colourists, gave me the opportunity to make my first rushes and eventually I was doing colour correction for TV sports. I then continued studying and completed a number of courses in colour and photography, as well as painting.
The best thing about my work is that it's never the same—you always have to learn new technologies and adapt with change. Clients are demanding and they are always looking for different ways to make their project unique.

Why has Baselight become the system of choice in Mexico?
The main reason that Baselight has become the system of choice in Mexico is because it is extremely user-friendly and powerful. It allows clients to easily see and understand what we are doing on screen, and it makes them feel comfortable that we are creating the look they are entirely happy with.
I also think that colourists feel very secure with Baselight because it is so intuitive and the design is so well thought out. It doesn't matter what previous experience you have had with other grading solutions, you can learn how to use Baselight quickly and easily.

What does Baselight give you that other systems cannot, and did you evaluate any competitive products before choosing Baselight?
Every colour grading system has something to offer but for me Baselight has something very special. In fact I have worked on a number of different grading systems and, for me, there are many powerful options available on the market that I like a lot. However, I still wouldn't choose them over a Baselight.
Baselight offers a great balance and is a dynamic, user-friendly and powerful system. It allows us to work with all formats and resolutions, including 4K. It offers a great toolset as well as the speed and accuracy needed when grading a project. This, in my opinion, is what differentiates Baselight from other colour grading systems.

How do your clients appreciate the Baselight?
The Blackboard panel is the first thing our clients see when they enter our colour grading suites, and they are always blown away by how it looks. After all, it's been designed by creative people with the creative person in mind.
Our clients come to us because they are looking for a facility where they feel confident with the workflow and the end results they are able to achieve. Clients are seeking a colour management process that will be simple, fast and accurate—and Baselight has always helped us respond to this demand.

What has been your experience of Baselight's performance?
I can positively say that this is the first time I have worked on a colour grading system that has met my expectations. It's not only how beautiful it looks or how intuitive and user-friendly the software is, it's also the support, the power and the performance that comes with it—which is a very important factor for our company. The knowledge and support provided by the FilmLight team has been second to none—it's what every colourist dreams of and comes to expect.

What sort of "looks" are your commercial clients looking for?
Right now we have three concurrent looks.
The more experienced directors, who have spent a number of years in the business like their images to be high in contrast, using saturated colours and with a strong vignette. The younger directors tend to look for a 'milky' image, with no contrast, de-saturated and with no vignettes (we call this the European style).
The third and most common look that we see in Mexico is very natural, almost as if it has been photographed. We try to use this typical look as a starting point in all our work. From there we will design a unique colour management proposal for each individual client and product, depending on their own requirements and needs.

How does Baselight help you deliver those looks—does the system solve any particular issues or problems you had to deal with on various other projects?
Baselight is the perfect tool to help create or fix a look that could not be achieved during the shoot. This could be, for example, by extracting information from images with very little light, using the filter or tracking tools or using shapes to simulate lighting. Baselight is an extremely versatile system and there is always a tool available to create the desired look that clients want to achieve. We love the fact that we can use Baselight to achieve this so effortlessly.

The gap is closing between production and post - do you get involved or asked to provide consultancy/guidance at the start of a project (production phase)?
We often get asked to be involved with the production end of the process. The new digital camera era has given the DPs and directors the advantage of being able to see what they are shooting at the moment of capture. We are always willing to get involved at the production stage to offer our help. For instance it could be that we help by giving advice on how to shoot a particular scene, or for our opinion on what camera would be most suitable for a particular shoot.
Sometimes we will carry out tests to generate LUTs for the shoot, or even the work print. Often they may just send us the still frames so that we can match it to the colour session. Whatever our client's requirements, Baselight provides Color Space with the tools and versatility needed to help fill the gap between post and production.

Are there current trends in the Mexico market?
As you no doubt see with projects in other countries, the production and post-production market in Mexico is always looking for a way to keep costs down and to complete projects as quickly as possible. At Color Space our response is to always try and help our clients achieve these objectives without compromising on quality.

What cameras are used for origination in your market? Are you seeing digital cinematography cameras like Red, Alexa and Canon?
The most popular camera in Mexico is the Arri Alexa, followed closely by the Red EPIC camera. Other popular cameras include the Sony F35 and F65, GoPro, the Phantom for high-speed video capture and the Canon 500 in 4K, as well as the Black Magic camera.
No matter what camera or format we are working with, we can always rely on Baselight to manage the entire process seamlessly.

Is there interest in using FilmLight's end-to-end colour management, creating viewable images and looks on set and carrying that info on into the grading room?
In an ideal world we would love to be able to implement an end-to-end workflow solution but we are reliant on what our clients wants to use. Today we find that we have to deal with a lot of gaps between the camera and the in-suite colour management process and having a complete solution would be great. To be able to add an on-set colour management tool like FilmLight's FLIP to our production workflow would no doubt help to improve quality and workflows as well as save time and money for clients at the on-set and post-production stages.

Tell me more about your archive film project. What are these films? Where have they come from? Where will they be seen?
The archive film material that we have is of great historical interest in that it shows people from the golden age of cinema in Mexico. We have over 1000 movies in a variety of diverse formats that are in the process of being digitally re-mastered. This is a long and arduous process but one that we are really keen to finish as we know the end result will be amazing.
We start by taking the original negative and outputting it to full HD resolution which will ultimately provide the longevity needed. In some cases we don't have the original negative film so have to digitalize from multiple tape formats. Thereafter we can start to deal with the different artifacts like dust, dirt, scratches, and correct pops in the audio to take these movies back to how the director shot the original film. We don't like to make too many enhancements otherwise we end up losing a lot of the original charm of the footage. We prefer to do the restoration work while trying to keep as faithful as possible to the original film.
Once restored these old movies will form part of a dedicated cable channel for Northern Mexico and part of the USA.

How would you summarise your relationship with FilmLight as a company?
The support that we have received from FilmLight since our very first meeting has been second to none. FilmLight was the third company we looked at during our search for colour grading equipment, and we knew immediately that they were the right company for us.
The technology is fantastic. The brand is powerful and the product design is elegant and ergonomic and the Blackboard control panel is just exquisite—all of which are contributing factors to our decision to select FilmLight as our facility's choice three years ago.
We are still confident today that there is no other company like FilmLight on the market. The support that we receive from the team in LA on a day-to-day basis is perfect; they are always very responsive and available to us 24/7. The team is in continuous contact with us and they never leave us alone to deal with a problem. We look forward to continuing our relationship with them for many years to come.

What kind of projects have you been working on lately and do you have a favourite project?
We have done quite a variety of work on recent projects, including advertising projects, short films, feature films, and video clips. We were also fortunate enough to be able to work on a restoration project for an old Mexican film, with the perfect combination of Baselight and PFClean. These tools are brilliant together for this type of work as they are extremely user friendly and intuitive—it makes our work a lot simpler.
In terms of my favourite project—I don't think one project is better than another. Each colour correction project has its unique challenges and excitement.

What features/capabilities of Baselight do you find particularly beneficial and why?
In general, Baselight is a complete and extremely user-friendly system. You can work with almost all formats of digital intermediate chambers, the colour correction tools are so intuitive that it is a pleasure to work on and it enables us to please the most demanding clients.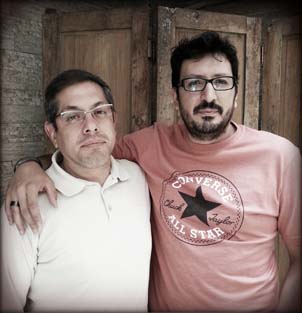 "I can positively say this is the first time I've worked on a colour grading system that has met my expectations.
It's not only how beautiful it looks or how intuitive it is, it's the support, power and performance that comes with it."
Details
Colourist: Daniel Amado and Juan Magana
Role: Colourists
Company: Color Space
w: www.colorspacemexico.com