Meet The Colourist
David Basta
Senior Colourist, Lumeni Productions, Glendale CA
David Basta has spent 20+ years at Lumeni serving major motion picture studios and TV networks. Most recently, Dave's passion for colour, titles, VFX and movie trailers led to the development of Lumeni's flagship service, Dynamic Interactive Review, to help clients achieve a flawless product in all target formats, prior to final delivery.
David's strong background in colour science, photography and digital technology enables him to dig deep and create magic on Baselight.
Can you give an introduction to Lumeni?
Lumeni began as a film-based graphics production company in 1979. At that time it specialised in creating high-end graphics and effects using computerised motion-control animation cameras along with a process known as 'back-lit, multi-pass, motion-control photography'. I came onboard in 1995 when Lumeni's existing camera graphics customers started requesting digital title finishing, primarily using Adobe After Effects. The company was a pioneer in developing workflows and colour science to accurately record digital cinema titles to film.
As titles became more layered and interactive with theatrical background plates, it became clear to our team that we needed a powerhouse DI system with serious compositing tools. Because of the nature of our work, we are often called to sit in on DI sessions at almost all the premiere DI facilities in Hollywood. Once we saw the Baselight FOUR and EIGHT workstations at the former Post Logic, we knew this system was going to be the future for our work at Lumeni.
How did you start your career?
I graduated from RIT with a BS in Professional Photography. After a few false starts, I ended up working for Carabiner in New York, which at that time was one of the world's biggest producers of large-scale corporate meetings and events. Carabiner was an analogue photography heaven that created slideshow presentations using up to fifteen synchronised projectors, and really pushed the envelope in terms of what could be done in front of large audiences with analogue photo technology. Dozens of artists worked 24-hour shifts creating Ektachrome title slides and business graphics for their shows.
The next logical step for me was to make the jump to Hollywood theatrical projects, and moving to Lumeni in 1995 allowed me to do just that.
How do you keep up in our evolving film industry and keep current with emerging technologies, workflows, etc.?
Because most of Lumeni's work involves small sections of very large theatrical projects, my job gives me a bird's eye view of the workflows that major tentpole movies around town are using. We have found that it makes the most sense to provide graphics and digital opticals in the same file format and colour space as the feature film and its associated VFX shots. For every major project, we receive the same workflow documents that the VFX vendors receive. I have learned not to be shy about asking the feature film's colour scientists and VFX supervisors to help explain new concepts. And of course, the FilmLight teams in Hollywood and London have been great sources of education.
Can you explain the finishing process of 3D trailers?
Recently studios have been asking that the 2D and 3D deliverables have no major creative differences. For the last few big projects, we have changed our longtime strategy of building 2D first. We now build 3D first and work out all of the depth problems and 3D-related art issues. Then we clean up and centre the left eye for our 2D delivery.
Since trailers are assembled from small sections taken from the feature film, it's important that we know and understand the 3D depth budgets of the larger project.  It is vital that we talk with the stereo supervisor of the show to get a sense of their tastes.  Elements that don't cut elegantly into the larger theatrical project always become re-dos.
What's different about 3D stereo work and what are the challenges?
One of the challenges working in 3D stereo is the amount of content that must be generated, which is at least double what is needed for its 2D counterpart.  Several of our recent projects specified 4K stereo deliverables. Generating both left and right eye elements at that high resolution requires a lot of After Effects or NUKE rendering, and a significant amount of layer pre-caching in Baselight as well.
How does a grading session work typically?
As a colourist at Lumeni, I work in concert with our in-house producer, Rob Ball. The legal requirements and client co-ordination issues on trailer work are enormous. Often our 'plan A' for a project hits a dead end and we need to come up with a 'plan B' or 'plan C' on the fly. Since a studio-wide trailer campaign often includes a half dozen or more studio decision makers, changes must go through multiple reviews and approvals to keep everyone in the loop. Rob's experience producing over 30 years enables him to defuse issues before they become problems.
Rob and I work as a team to come up with a colour grading and compositing solution that we not only think solves the client's needs, but that we are also proud of personally. This usually gives us a really healthy starting point to address client notes and make everybody happy.
How do you and Lumeni's VFX team work together?
For VFX and stereo-heavy projects at Lumeni, I always work closely with our Compositing Supervisor, Sean Amlaner. In addition to his 17 years of compositing experience, he is also a fully fledged stereographer. At the very beginning of every project, we extensively discuss project strategies, layering, colour science, etc. All of our art staff computers are tightly networked to our two Baselight theatres. Artwork continuously flows in both directions. NUKE and After Effects test plates and heroes move to Baselight, and sections of the Baselight timeline that could be more effectively handled with NUKE's toolset are moved to the art department. Hand-offs usually take just a few minutes.
How would you define your personal style of grading?
How do the compositing tools in Baselight help you meet tight deadlines?
The compositing tools in Baselight are at the heart of our approach to digital finishing, even when emergency 'surgery' is required for projects with tight schedules and limited budgets. Baselight's power and flexibility enables our art department to interface seamlessly with our DI theatres to produce efficient, cost-effective results. This dynamic workflow means that our clients can make interactive changes to graphics, effects, and colour while reviewing their projects in our theatres. We call this service 'Dynamic Interactive Review'. I also like to describe it as 'Fire and Rescue' for graphics that must be fixed now. These kinds of projects really demonstrate our strengths at Lumeni. With very few exceptions, we have every programme and plug-in used for motion graphics installed and ready to go at a moment's notice, and we have a full-time art staff in-house that knows how to use them.
A few days ago, we were commissioned to use our Dynamic Interactive Review workflow to improve a studio intro logo that was supposed to look like jewellery-quality gold but didn't, greatly disappointing the studio clients who only had three hours left to complete the project. Two hours after we received the original After Effects project, we delivered a hero take to the editor in NYC, and the studio clients loved it. Our art department output the original After Effects project layer by layer in a high-bit-depth colour space, and handed the layers off to Baselight for re-compositing. Baselight's advanced colour science tools enabled us to rescue highlight information that was burned to a crisp in the original take. Using Baselight's delicate colour curves, we nudged a very presentable, even elegant, gold texture out of the layers. Best of all, the final price was very reasonable, and the client was delighted.
What do your clients like most about what you can offer with Baselight?
Their favourite thing is something they don't even know the name of: Truelight Colour Spaces. Our clients are amazed that by using the built-in colour space tools in Baselight, we can exactly match the colour workflow of almost every film production in town. When our work is dropped into the bigger project at Technicolor or EFILM, the colours are exactly what everybody expected.
How would you summarise your relationship with FilmLight?
I think of FilmLight Hollywood as the 'big brain'. Without their input it would be impossible to keep up on all of the technical innovations that are continually happening in the industry. I would say that 99% of the time when I ask the team at the Hollywood office about a new technical workflow, they already have encountered the issue in the weeks before and are well versed in explaining it to non-engineers.
I'm a simple guy. I like to make beautiful things on large screens, and to bring home the bacon to support my family.
What do you do when you are not grading?
I enjoy life in the sun (above 48 cd/m2).
What's next for you? And for the company?
I like waking up in the morning...whether it's Burbank or Saint Tropez, it just doesn't matter.
What's next for Lumeni? I'll let our CEO, Gilbert Yablon answer that one…
GILBERT: "When we started Lumeni in 1979, our goal was to make clients feel like heroes, and we've never lost sight of that. Every project is important to us, and we strive to achieve outcomes we can all be proud of. In today's post-production environment the demand for quality has never been higher, yet the level of difficulty for achieving quality is constantly increasing. We believe tools like Baselight, our experienced staff and innovations like Dynamic Interactive Review help our clients sleep at night and position us perfectly for future challenges filmmakers are likely to encounter."
Join In
If you want to participate in our MTC programme, we'd love to hear from you. Contact:
Alexa Maza
e: [email protected]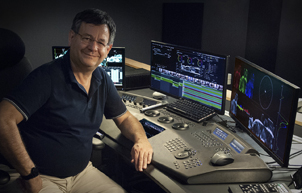 "Our clients are amazed that by using the built-in colour space tools in Baselight, we can exactly match the colour workflow of almost every film production in town. When our work is dropped into the bigger project at Technicolor or EFILM, the colours are exactly what everybody expected."
Details
Colourist: David Basta
Role: Senior Colourist
Web: Lumeni Productions