Meet The Colourist
Fernando Medellin
Colourist, Oxido, Mexico City
Oxido has two Baselight suites in its Oxido Films operation and has recently expanded with two Daylight on-set systems for dailies services. Colourist Fernando Medellin, an expert in grading for films and advertising, supervises their colour process. Outside work, Fernando is also an active motorcyclist and athlete.
How did you start out in post?
I started as a stills photographer and after several years photographing products, portraits and events I began to work in a studio that specialised in 3D animation for TV commercials. Initially, I was responsible for lighting the animated models. During this period, the studio began to grow into VFX, then we introduced online editing and, finally, telecine was inevitable. When this happened, the director of the studio asked me to join the new department.
What do you like about colour?
I have always particularly enjoyed colour in painting and art, and I love the look developed in the European cinema. So the move into telecine was a natural progression for me.
What sorts of jobs do you work on?
At Oxido, we are very lucky as we work on many different projects - commercials, programs for television and films. During the first years of my career as a colourist I mostly worked on movies, but I've also been grading TV series and spots for the past six years.   
Can you describe your facilities and everyday processes?
Oxido is one of the leading post houses in Mexico. We offer a comprehensive range of services to our customers: from acquisition and generating dailies to colour correction, animation, 3D motion graphics, online and DCP.
We have two full Baselight grading suites and we've recently invested in new Daylight on-set grading systems that have been a great addition to Baselight. This is partly because of the BLG workflow - being able to export BLG files directly from Daylight into Baselight means I don't have to worry about changing colour spaces or recreating custom looks the crew came up with on set.
Can you tell us more about your collaborative work with the other departments: dailies, editorial, VFX?
Every department at the studio is connected which helps to ensure we achieve better results on each project we're involved with. We collaborate together from the creation of looks for dailies to the finishing, including all VFX work. We are always trying to find different paths to work more efficiently on a project ,and that's where FilmLight's colour pipeline has been really helpful.
What makes for a good day at the desk?
A good day is definitely when a customer is satisfied with my work - when I can get to what the DoP, the director or the creatives are looking for. When colour correction reaches another level, it stops being just a look and instead contributes to the story or the message.
What is the best project you have ever worked on? And why?
I'm naturally enthusiastic and curious about everything new. Each project I come across has its own story and I'm grateful to be a part of it - short or long, dark or funny.
What was the most recent project you have worked on?
I'm currently working on a film with a story that goes from reality to fantasy for HBO Latin America. I can't say much more at this time, but the project was captured in HDR. I couldn't have completed the grade without the powerful tools within Baselight. The system really helped me create a beautiful image and achieve the look that the film required.
Can you tell us more about this 4K HDR project?
HBO Latin America is looking to produce its content to the highest standards possible. Together with FilmLight and Sony, we decided to create a demo in 4K HDR using original material from their TV series, captured with the Sony F65 and F55 cameras. We did the grading using Baselight with the BVM-X300 for greater dynamic range and better colour conformity. We selected scenes from various series and did the grading while trying to take advantage of all the potential offered by the HDR capture.
The result was surprising. The amount of information and the dynamic range of the curve is extraordinary. The extra details and lack of noise within the blacks, even to the tiniest elements like the filament of the tungsten bulbs, were achieved with a simple balance. It is a dream come true - a new era of image for us colourists and DoPs.
How much of a part does technology play in the way you work? Or do you prefer to go on instinct?
Technology is an integral part of my creative work. And, because it changes all the time, I have to stay constantly alert and up-to-date.
I always work on instinct, but in colour you cannot separate one from the other. The technology gives me the necessary tools to reach what I want and take it a step forward. I'm always experimenting and researching new techniques to match my ideas.
What are the current challenges in getting the look you want?
Keeping up with all the different forms of image acquisition is quite challenging nowadays.
The bigger challenge to me though is to understand what the director and cinematographer have envisioned, then use my experience and my creativity - combined with the very precise tools Baselight offers - to obtain the optimal result. 
It may vary from project to project, but how early do you get involved in a production?
Most of the time, I talk with the DoP; we analyse the project, its requirements and then I make suggestions. Now that we have Daylight, if there's time I can even set an initial look so the DoP can use that on-set.
Do you see any new projects originated on film today? If so, why do directors choose it, and what can you bring from it to create a distinctive look?
Less and less. If directors decide to do a project in film, this is because of the look that is required, or most likely the director doesn't trust digital cameras as much as they trust film.
What do you enjoy doing most outside work?
My family, running and riding motorcycles – in that order!
Join In
If you want to participate in our MTC programme, we'd love to hear from you. Contact:
Alexa Maza
e: [email protected]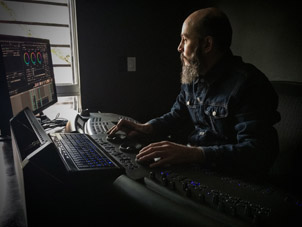 "When colour correction reaches another level, it stops being just a look and instead contributes to the story or the message."
Details
Colourist: Fernando Medellin
Role: Colourist
w: Oxido, Mexico City