Meet The Colourist
Josh Petok
Freelance Colourist, Los Angeles
Josh Petok has been working as a freelance colourist on TV, movies, commercials, and music videos for over 18 years. He works mostly on television with over 700 completed episodes on projects such as MasterChef, LEGO Masters, and The Courtship.
Josh believes that being a colourist is artistic as well as scientific. He strives to make beautiful pictures, and equally enjoys diving into the details of colour management, HDR, and staying current with new tools and software. His most important goal is to be supportive of all of his client's needs and desires.
Tell us how you became a colourist? Did you always want to work in colour?
One of my first jobs in Hollywood was at a local PBS station as an assistant editor. This was in 2001, when Avid Symphony was starting to become a great option for online editing. For many shows, it became flexible and affordable to complete the online and colour in house.
This was the first time I was introduced to colour, and I was extremely fascinated. The colourist I worked with was generous and helped me understand his process. It was a lucky combination of timing, availability, and necessity. After that, I was confident in my skills to take on the creative and technical work myself.
Until that experience, I always thought I'd be an editor, but colour grading quickly became my passion.  Unintentionally, some of the skills I learned as an editor still serve me today in understanding why editors make specific choices, how to direct the viewer's eye, and making a scene flow.
How do you think colour shapes the way audiences perceive TV?
We are all extremely sensitive to colour, especially when it doesn't look the way we expect it to. And these days, the production value of television has never been higher, not to mention UHD and HDR are more accessible through streaming networks.
As colourists, our work should be invisible, but also make you feel something. We can guide you to like one person over another, focus on the tears in someone's eyes, or salivate over a strawberry filling on a luxurious dessert. Overall, a colourist helps increase the production value and pull the viewer into the story.
Can you talk us through your involvement in choosing and implementing a colour palette for a specific scene/TV show?
There's some series that are very straightforward and easy to implement. For a show that has run over multiple seasons, they generally have a solid idea how the series should look.
However, there's others that have something specific in mind. On a new series, The Courtship, the producer wanted a reality show that looked like 19th century England. After an overall balance, we used a film LOOK operator in Baselight to give a more vintage feel. There was a serendipitous feeling to it that I wouldn't arrive at if I just moved the controls around. I was able to quickly apply it to a scene and tweak it to our tastes.
In both circumstances, I rely on the cinematographer to communicate their needs and motivations. Luckily, I have a great relationship with our DP, Adrian Pruett. After working together on many series and commercials, we collaborate very well. Whenever possible, he shoots test days and we review the footage to make sure everything will work as planned.
How do you usually work with the producers, directors and cinematographers?
Some of my best days are when I get to review with clients. A director once said, "I haven't really seen my movie until your grade is on it." It's that purpose and gratitude that gives me the energy to come into work every day.
Our sessions are collaborative, whether in person or virtual. I will always try a client's idea, even if initially I don't think that it will work. But I'll admit, sometimes I'm surprised how good it comes out.
Like an editor, I am an impartial party that was not present on set. I try to give them a realistic idea of what was shot and how it works in the context of their project and how it supports their overall theme.
How much time do you usually have to work on an episode / grade? Do you enjoy the fast-paced environment of TV?
It really depends on the show. Some episodes have a very quick turnaround, and with others we can take our time.
Because our shows have 1500 shots (or more), I've been accustomed to working quickly and efficiently. There's not a lot of time to overthink your grades. You just sit down, put on some loud music, and trust the years of experience. At times it can be stressful, but I still enjoy it.
Television is no longer the domain of a single country. Our shows are recognized all across the globe. It's a thrill to know our work is appreciated by so many people.
Can you tell us about your grading suite and Baselight/Avid workflow?
I use both Baselight and Media Composer in the same suite. We chose the Slate as our primary grading panel, which is supported in Baselight and Avid. With a quick tap, I can be in either Baselight or Media Composer, with panels, monitoring, and shared storage. We've saved countless hours on conform and rendering.
This flexibility is essential to our workflow. Our producers prefer to review in Media Composer because we can change edits and shots, modify effects, review audio, and improve the grade all in the same software. Their schedule is precious, so being able to get it all done at once saves massive amounts of time.
Can you tell us about a recent project and how you used this renderless workflow to achieve the desired look?
Our latest show, LEGO Masters on FOX, used the renderless workflow on every episode. During one scene, we decided the overall feel was too dark. Without leaving Media Composer or creating any new media, we were able to address the note quickly and review on the spot.
How does Baselight aid your role as a colourist?
Working on a Baselight has a more natural feel than any other system I've worked with. I use significantly less layers to get a great looking image. From bringing the images in with FilmLight's colour science, to grading in a holistic tool, like Base Grade, and saving time with a renderless workflow, Baselight is the best system for me.
Can you tell us about your experience with the FilmLight team and the support they provide?
The team at FilmLight not only helped us build a system specifically for our needs, they also supported us every step of the way. Any time I had technical questions, they were available and willing to meet us locally or remote into our system. I appreciate having direct access to Andy Minuth for any workflow advice – this is a huge benefit.
This is an exciting time to work as a colourist. Technologies like deep learning and remote grading are more of a reality than ever. There's a ton of content produced every day and it all needs the touch of a skilled colourist. I'm looking forward to a time when the majority of televisions display HDR in the highest possible quality, much like the transition from SD to HD. Our food beauty shots will look more delicious than ever.
I will also continue on my quest to brew the best 24-hour cold brew coffee in the world.
Join In
If you want to participate in our MTC programme, we'd love to hear from you. Contact:
Alexa Maza
e: [email protected]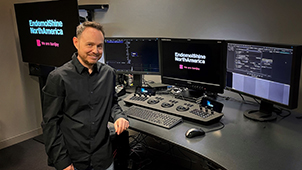 "This is an exciting time to work as a colourist. Technologies like deep learning and remote grading are more of a reality than ever. There's a ton of content produced every day and it all needs the touch of a skilled colourist."
Details
Colourist: Josh Petok
Role: Freelance Colourist
Web: Josh Petok | Colorist