Meet The Colourist
Julien von Schultzendorff
Colourist, nhb studios, Germany
Julien von Schultzendorff is a colourist at nhb studios in Germany, which has Baselight grading facilities in Hamburg, Berlin, Düsseldorf and Munich.
Julien has now been with nhb for five years and is well established in the colour grading scene in Germany. At present most of his work is in high-end commercials, for clients like Mercedes, BMW, Volkswagen, Rimowa, Lufthansa and more. His long-term goal is to work on feature films.
At the end of 2019 Julien will move to Berlin, where nhb is currently building a new Baselight suite, to work alongside Pana Argueta.
In his free time Julien often goes to the woods, soaking in nature. He enjoys skydiving, playing the guitar and the piano and likes to travel. He also does Olympic weightlifting and powerlifting, although recently he had to take some time off due to an injury.
Can you tell us more about growing up in and around the film scene? Any highlights? Did you always want to be involved in the colour side?
My father Wedigo von Schultzendorff is a cinematographer, and I often visited him on set. I was used to being surrounded by cameras and film equipment, and hanging out with the crew. My highlight, though, was when I met Woody Allen.
Growing up, it was clear to me that I would become a cinematographer as well. But then around the age of 18 I discovered colour grading. It hit me right away – I knew this was what I wanted to do.
Did you learn a lot about the craft from your father as a DoP and your mother as a photographer?
I think the biggest gift I got from them is the awareness of the beauty of pictures and visual appeal. And of course, I got to learn the technical side of making a film. That helps a lot when you are sitting at the control panel in a grading suite. By showing me movies, photography, and the old and new masters of painting – such as Caravaggio, Goya, Vermeer, Munch and Hockney – my father also introduced me early to the world of light, colour and shadow dramaturgy.
How did you get the opportunity to train with colourist Phil Schmidt at Screencraft?
After school I started an apprenticeship for media design at the post-production house Screencraft, where Phil Schmidt works. I did everything possible to become his assistant.
And then when I finally reached this goal I was sitting at the Baselight system literally day and night: working during the day and practicing at night. In the mornings Phil would review my achievements and teach me new things.
For about three years this was basically my life. I loved it, and I'm immensely grateful for his patience and passion.
What was your first experience of Baselight?
If you count the moment I stumbled into Phil's grading suite for the first time to see him doing magic with Baselight, then that was it.
The most memorable experience was watching Phil grade a feature film with the incredible cinematographer Vittorio Storaro. That's when I got to see all the possibilities in colour grading: how to bring creative visions into life.
The second memorable moment was colour grading my very first job all by myself: an Opel Astra campaign. That was in 2016 at nhb Hamburg, and of course with Baselight.
What are your favourite things about Baselight?
First, that it is a cohesive system. You get everything you need – the panel, the computer, the software – from one company. Whenever you need help with any of if you just need to make one call. FilmLight takes care of it.
That also means you get to work closely with the developers of Baselight, who are so fierce about their work. That makes it so special and so well-thought-out, and it is great to feel I'm contributing to that process.
I also love that the system is built for professionals. It is clearly created for the best possible performance on high-end projects. And that gives a freedom: everything is possible and there are no limits to what you can achieve.
What is it like being a young colourist in the industry?
Sometimes, people think that you can't be any good just because you are young. Some clients would come to the grading session and have low expectations when they enter my grading suite. But as soon as we start and spend time together, you can see the distrust disappear and they realise: all right, he knows what he's doing. I must say I enjoy the moment when it turns around and you can see they are blown away by your work.
I may not have 20 years of grading experience on my back, but I make up for it by having an untainted, progressive approach, by being up to date on new techniques and receptive to new ideas.
What advice would you give to aspiring young colourists hoping to get into the colourist's chair?
At first be sure this is really what you want to do, because the competition is hard and the working hours can be crazy.
Get into a post house that has a well-equipped Baselight suite with a great colourist. Start as an assistant, or get an internship.
Learn as much as you can, and if they need to work all night, stay until they leave too. The hardest hours at the job can be the ones where you learn the most crucial lessons.
Which artists inspire you the most and why?
There are many who have inspired me along the way, if only with a little side note or with their love for the job.
There was Phil Schmidt, my teacher from day one. He is a maniac when it comes to film. Whenever I thought "this is it, I've outsmarted his techniques", he came right around the corner to show me something even better, something new, always blowing me away again and again.
Also Maxine Gervais is very inspirational for me. We met at the Baselight Colour Days in Amsterdam and were discussing Baselight techniques. We stayed in contact over email and she would always answer all of my questions about her way of working, like the way she uses colour spaces and Base Grade, and how she sets up her operators. She is a very open person and likes to share her knowledge: I admire that.
Although unfortunately I have never got to meet him, Yvan Lucas' style, his look and his thinking are just on another level.
You said your future goal is to "work for big feature films with amazing directors". If you had the chance, which film director would be at the top of your list?
There are far too many to list all of them, but let's start with the most amazing ones. Among directors:
Alejandro Inarritu – The Revenant
Wes Anderson – Grand Budapest Hotel
Gaspar Noé – Enter the Void, Irreversible
David Fincher – the dark look of Girl with a Dragon Tattoo is absolutely awesome
Roman Polanski – Chinatown
Martin Scorsese – Taxi Driver, Wolf of Wall Street
Darren Aronofsky – Black Swan
Zhang Yimou – Hero
Quentin Tarrantino – Once Upon a Time in Hollywood
Park Chan-wook – Old Boy, The Handmaiden
Jean-Luc Godard – Le Mépris
And among DoPs:
Darius Khondji – Too Old to Die Young
Benoit Debie – Enter the Void, Irreversible
Emmanuel Lubezki – Tree of Life, The Revenant
Roger Deakins – Blade Runner 2049
Rodrigo Prieto – The Wolf of Wall Street
What sort of projects do you handle now?
Most of the time I work on commercials. Sometimes music videos or small feature films.
At what point do you tend to get involved in a typical project?
On commercial projects I usually get involved after the shoot. Because I am interested in workflows and also responsible for the colour pipelines, I get involved in the early stages in post when the VFX team does the preparation for the project in house.
You work at Berlin, Munich and Hamburg? How do you divide your time between these offices?
I'm currently based in Hamburg, where I work about 75% of the time, but in December I'm moving to Berlin. Each of our offices has its own charm and advantages.
As for dividing the time, there is no hard rule. Sometimes I fly to Munich twice a week, or even stay for two weeks straight. And then I might need to be in Berlin for a month. There are days when I might fly to Düsseldorf for about six hours and fly straight out again. It always depends on the project and workload.
Tell us more about the move to Berlin?
Berlin is a cool city with crazy people and a great film scene. I love it there. Living there fits in well with my career and my personal life. Also, I'm looking forward to living closer to my Dad, who also lives in Berlin.
Can you tell us more about your work on the Rimowa "Never Still" campaign?
I had the great opportunity to do the grade for the Anthem commercial with the agency Anomaly in Berlin. Every short film had a different colourist and director working on it.
The Anthem film brings all the stories together. It has parts of each short film plus some additional material.
The interesting thing here is that the Anthem film consists of raw film scans that were also used in the short films, raw film scans that weren't used in other films, already graded footage, and completely newly shot footage. So, the challenge for me was to get all this in one consistent movie, with the agency having their own colour vision in mind but also not moving too far away from the other movies.
I had to grade on top of already graded footage, making digital footage look like film, and imitate grades from those short films, But that is pretty easy with Baselight, because everything is possible. There are no boundaries. If you can imagine it, you can create it.
As a final step there was a final grading session with the agency to get the desired look they wanted.
Can you tell us more about the BLG workflow at nhb and how this has allowed you to complete huge VFX-heavy projects? How do you work alongside VFX?
One recent interesting project was for the BMW X Range, that involved James Bamford as the main colourist. James started the grade with the director, and I continued with the agency. It is a huge project with over 500 vfx shots and many different versions as well as material for other areas like launch films and social media alongside the commercials.
So a classic commercial workflow was not possible here. Too often the grade got changed: the edit was not final when the grading began, and so on. So we needed to come up with a feature film-like workflow solution for this project, and we relied heavily on [FilmLight's render-free portable format] BLG. This allowed the effects team to comp on the RAW footage and easily exchange the grades on top of it, without cycling the comp versions and new edits over and over through the Baselight.
The production time was only six to eight weeks, which was challenging but it worked really well. We could not have done it without BLGs – otherwise hundreds of night shifts would have been needed. So nhb has now fully integrated the BLG workflow, and we use it on every VFX-heavy project. It took some time to develop it and getting everyone on board, but now it works great and everyone is used to it.
I work very closely with the VFX department, because I am interested in workflows and pipelines. We saw early on the potential of the BLG workflow, using plugins in VFX and also in editorial. I worked alongside Nuke and Flame people. Together we did many tests, and got Daniele [Siragusano, FilmLight image engineer] on board – always a great help – and finally completed it and presented it to the company.
Tell us more about your Olympic weightlifting and powerlifting? How did you get into this? You say you're breaking for injury but do you hope to get back into it?
I am currently recovering from an injury, but will hopefully get back into training before the end of the year.
I was fascinated by how strong you could become. I didn't only want to look like some pumped up dude, but actually have the strength to pull a car or tear out a tree. So, I started to go to the gym, where I met a few guys that were into power lifting. A few days later I found myself trying it too and I was hooked and training towards competitions! I guess I'm an all-in person: if I get hooked I want to be the best I can get.
Julien's showreels can be found at:
www.julienvonschultzendorff.com
www.nhb.de
www.instagram.com/julien_von_schultzendorff
Join In
If you want to participate in our MTC programme, we'd love to hear from you. Contact:
Alexa Maza
e: [email protected]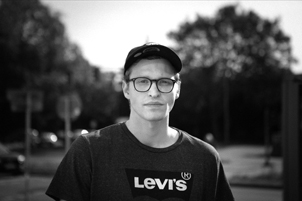 "Growing up, it was clear to me that I would become a cinematographer as well. But then around the age of 18 I discovered colour grading. It hit me right away – I knew this was what I wanted to do."
Details
Colourist: Julien von Schultzendorff
Role: Colourist
Web: nhb studios