Meet The Colourist
Makarand Surte
Senior Colourist, Redchillies.Color, Mumbai
Makarand Surte was part of the foundation team of RedChillies.Color at the start of 2017, an initiative of Redchillies.VFX in Mumbai. He has worked on many productions both before and since, including the short film Adnyat, which won the National Film Award for Best Non-Feature Film Cinematography in India.
Tell us a little about Redchillies.Color and how you differentiate yourselves in the marketplace?
Redchillies is a household name now, a conversation starter. The minute I say I'm with Redchillies, everyone stops whatever they're doing and asks me, "How is SRK" (Bollywood actor and producer Shah Rukh Khan) I guess that's one of the great ways we differentiate ourselves.
So it was in 2016, when Fan the movie had just been released, when my coworker and friend Ken Metzker and I were approached by Keitan and Harry, CEO and CCO of Redchillies VFX, who suggested the possibility of having a colour grading setup for Redchillies. This was a great collaboration opportunity for our clients and us. And that is how it all started for Redchillies.Color. We were able to move with the majority of our team from Reliance MediaWorks so we have been able to fly right out of the gate.
Our quality, involvement with our clients, understanding of the directors' requirements as well as our vision is what our colourists are known for. Building a good rapport as well as delivering our projects on time; that's how we really set ourselves apart.
Can you describe your colour and VFX services?
Redchillies.VFX has been in the VFX business for 12 years now; we're embarking on our thirteenth year on April 1 2018.  We started the VFX division in 2006 with an eight member team and have expanded to over 400 employees and worked on 35 movies, including two Hollywood and two Chinese productions. Our VFX services include: On Set Visual Effects, Concept Art, Previs, 3D Assets, 3D Animation, Crowds, Creatures, Matte Painting, CG Environment, CG Effects, Compositing, BG Preps, and Digital De-aging.
RedChillies.Color was born in January 2017, and we moved into our new state-of-the-art facility in May of that year. We had a very keen and fantastic team ready to join us. Our aim was to provide a fully-fledged post-production service to the fraternity along with our International VFX division.
We have graded over 22 movies, in regional languages as well as for Bollywood.  We offer services like Digital Colour Grading Features, Trailers & TV Spots, Editorial & Conforming, ACES workflow, Digital Cinema Mastering & KDM Delivery, Digital Mastering for 4K UHD & OTT Content, On Set Services DIT & Dailies.
Do you and Redchillies' VFX team work together sometimes?
Yes, very much. Once we have signed on a script, we sit and discuss the movie theme so I can understand the tones, the background and the storyline, which helps me in my colour grading process. Whilst the project is still being graded, the VFX team and supervisor sit with us in the grading theatre and give their input too. Here, it's important to mention teamwork and acknowledgement as well as respecting one another. That is how I have always maintained my work relations with clients as well as team members.  
How did your journey in post happen?
I have an engineering background so after my studies (about 20 years ago) I joined Crest Communications. Here I was an intern, helping them with scanning and assisting colourists in odd jobs.  I observed a lot and tried to understand the techniques used, as being a colourist is a complete on-the-job-learning role. I even assisted senior colourist Wayne Tyson at Prasad Lab (Efx) at a meager salary of approx. 25 pounds a month.  This is when my boss at the time told me, "if you can learn it in your own time, you can become a colourist". I guess that's what motivated me to learn and how my journey into the world of grading started.
How do you use Baselight on a daily basis?
I use Baselight every day to grade feature films in India.  
Baselight makes my life so easy, particularly Hue Angle, which helps in separating skin tones of the actors and also enhancing their face structures.  In short, Baselight can be compared to a small tank loaded with weapons, each having their unique qualities.
What do your clients like most about Baselight?
I don't want to get too technical here regarding formats and resolutions, but since Baselight is known for its speed of work and its intuitiveness to colour grading, it helps me work faster to achieve the colour aesthetics that both my clients and I want.
Could you describe a recent project completed in colour and what Baselight tools were particularly beneficial?
I've worked on almost 50 projects on Baselight, but the most recent one is a suspense thriller called Ittefaq.  It's set against a rainy night in the city of Mumbai across three days and with two consecutive stories. I had to capture this, and used a lot of grey and dark tones. The DoP, Michal Luka, and I had to ensure we portrayed this thriller with the use of colours and hues. Thus, Baselight tools helped in getting the image to the right point, and swiftly.
Another movie I recently enjoyed working on was Furkey Returns, a sequel to a slapstick comedy shot by DoP Andre Menenzes. This movie was the exact opposite to Ittefaq as this played on a lot of vibrant colours and, of course, our world famous Bollywood songs.
I like to understand the director as well as the DoP's vision. What is it that they actually want to achieve from the movie? I also aim to do justice to the storytelling.  
What are the biggest challenges you face today as a colourist in India?
India is a country of colour, festivals, laughter and mirth, all of which is expressed very well with the use of different and vibrant colours. ­The audiences are used to seeing a lot of colour in movies and as a colourist I need to live up to these expectations, which can be a big challenge sometimes. Why? Because actors hail from different regions across India and have varying skin tones, so to balance that becomes quite tricky, as I also need to match it to the script and the story.  
Marathi short film Adnyat bagged the accolade for National Film Award for Best Non-Feature Film Cinematography this year. Can you describe your work on this particular project?
This was a project close to my heart and the subject is also very touching. It's a regional feature film portrayal of an eight-year old boy who is unaware of his own religion, and he sets out on a journey to borrow religious customs and traditions to discover himself. Through this film we presented a silent soulful story, with religious sensitivity as the movie questions the true meaning of religion.
Working on Adnyat was a personally fulfilling and enriching experience. The colours that I worked with have gone on to give the vision of the director and cinematographer and achieve more depth and meaning in every frame.
In this movie, colours play a very crucial part as the story is narrated with colour, rain and music. Set against the background of the grey monsoon, we can see the use of correct hues, colours, expressions as well as the minute details like the grey clouds, which enhance the movie setting.
Originally, the director and producer of this film had gone to another VFX house to get the clouds added. But through my skills and Baselight's toolset we were able to recover the original clouds in the shot and keep the images more organic.

Where do you find inspiration?
As clichéd as it might sound, I get inspiration from my 13 year old daughter, Vanshika. It's amazing how the kids of today's generation think, the ideas and perspectives that they have. It's mind blowing. She is also creatively inclined, so I enjoy watching her and seeing how she solves problems and comes up with 'out of the box' ideas. It inspires me to pull up my socks and be better at my job.
What do you do to de-stress from it all?
 I de-stress by playing outdoor games.
I don't ever see myself not working, this is my passion! However, I would also like to teach students in the future, as we don't really have schools or courses for colour grading. Imparting knowledge and helping the grading world - that's maybe what's next for me. 
How has your role as a colourist changed over the last decade?
I think the medium has changed. From negative to digital, the role still remains the same. Technology has changed too, so as a colourist I have adapted and am adapting still. I believe learning is a daily process.
What piece of work are you most proud of to-date and why?
To choose one particular work of mine is truly tough as I treat each project equally and pour my heart and soul into it. However, if I have to name a few, I'd say, as a colourist I'm really proud of my work for the films 3 Idiots, Byomkesh Bakshi, Once Upon A time in Mumbai, Agnipath. And of course, the short film which won the National Award for Best Cinematography, Adnyat.
Join In
If you want to participate in our MTC programme, we'd love to hear from you. Contact:
Alexa Maza
e: [email protected]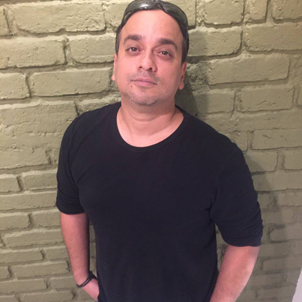 "India is a country of colour, festivals, laughter and mirth. The audiences are used to seeing a lot of colour in movies and as a colourist I need to live up to these expectations, which can be a big challenge sometimes."
Details
Colourist: Makarand Surte
Role: Senior Colourist
w:
Redchillies.Color