Meet The Colourist
Martin Klein
Colourist, Filmmore
Filmmore operates in Amsterdam and Brussels.
Their colourist, Martin Klein, is a skilled artist who loves his work as well as photography, and keeps bees when he's not in his colour room.
How did you make your start in colour?
After studying photography, I started working at the biggest film lab in the Netherlands grading film - what used to be known as colour timing. I was mainly working on feature films and documentaries, but then I switched to film scanning and continued with tape-to-tape colour correction for commercials and television. Ten years ago, I started working with Baselight for both feature films and drama series at Filmmore Amsterdam.
Filmmore has offices in Amsterdam and Brussels – can you describe your facilities and overall processes?
Filmmore Amsterdam has various facilities for editing, film and video grading, visual effects and mastering plus DCP creation for feature films, television and documentaries. Filmmore Brussels supports both grading and visual effects for feature films and drama series.
Can you tell us about your post pipeline and set-up over your various departments?
We run twelve Avid suites for offline editing, five Baselight grading suites, two Baselight conform seats and six mastering/finishing seats, all divided between our different offices. On top of this, our VFX-department is scalable from five to 40 workstations.
Our Baselight grading suite for cinema is set up as a fully calibrated screening room, so we can review the master DCPs with our clients in the room where grading has taken place. We pride ourselves on having our 4K Sony projector calibrated to the very tight SMPTE standards for screening rooms, just as the 7.1 audio system is calibrated to Dolby's standards.
On our client's request, we've also set up a specific workflow for drama series working on a budget. Using Sony's XAVC codec and the Avid AAF protocol, we've managed to set-up a seamless transfer from Avid to Baselight, without having to compromise on overall quality.  
What sort of content do you work on nowadays?
Lately, in between features, my work has been focusing more on drama series. Every series needs its own look and continuity of course, which keeps it challenging and interesting.
Just recently you graded the western thriller movie 'Brimstone' from director Martin Koolhoven. How did you get involved in that project?
I knew Rogier Stoffers, the DoP, from before he left for the US 15 years ago. Back then we worked on his Oscar-winning film Character. Last year when he came back to the Netherlands for the film The Surprise, we continued our collaboration and we worked on Brimstone over the year.
How was the look developed with the filmmakers? How did the material inspire you?
The film takes place over a period of four seasons. This meant that the filmmakers had already developed the look and incorporated this concept directly into the script.
The shooting days were divided across all seasons and were filmed in five different European countries. It was such an interesting challenge to create an atmosphere in which the viewer would experience the film as if it was all filmed in the United States around 1880.
What Baselight tools were beneficial?
For the exchange of visual effects, the colour management toolset in Baselight was particularly helpful. Because all the ARRIRAW files were cached on the system, we were able to work in real time at the highest possible resolution.
And of course the other tools I usually like include Baselight's keyers, shapes and trackers.
Anything else about Baselight that helps your creative process?
Baselight is simply the bee's knees of colour grading systems. In our part of the world you have less time to spend on grading features. Yet I firmly believe that in the end you want to exceed people's expectations. Apart from giving you total control over the image, with its power and efficiency, Baselight allows you to maximise the time you can spend on the actual creative process.
Are you regularly involved from the start of a project?
This would certainly be helpful at times. However, this would also mean I would have to grade the rushes on set, which is not what we usually do in the Netherlands. Here, the colourist works at the post-production stage.
How would you define your personal style of grading?
I prefer to take a natural approach with continuity and I always try to make sure the grade does not distract the viewer.
In your opinion, what natural skills do you think lend themselves to being a successful colourist?
Communication and empathy are part and parcel of the key skills of a successful colourist. During a grade you have to be able to talk about and empathise with the various emotions that a scene or film can have. In addition, it helps when you have deep technical knowledge to better control what you are doing.
What advice would you give to people interested in becoming a colourist?
My advice is to start with photography to get a feel of what you can do with light. Meanwhile you should watch a lot of drama series and go to the cinema. In general, enhance your awareness of light - try to determine what it does exactly to influence your mood. My last recommendation is to try and work with experienced colourists.
Any particular colour ideas you are experimenting with or wanting to see more of?
Oh yes! As a photographer I'd love to be able to use the Blackboard panel with Lightroom so I can speed up processing my stills... Just kidding. I suppose I'm just spoiled by what I'm able to use on a daily basis.
Furthermore, at Filmmore we would love to improve our ACES pipeline.
We use ACES as an exchange format between our grading and visual effects departments. Because of the floating point conversions between ACES and all scene-referred colour spaces, we now have a VFX colour pipeline that is 100% predictable. When the VFX is properly done, it's like working with the original camera material. No restrictions whatsoever.
We are looking forward to version 2.0 of the ACES colour space for grading. ACES's philosophy is greatly supported by Filmmore, and we can't wait to do employ ACES colour management at all points in our colour pipeline. 
What do you like most about Baselight?
That it allows you to see, in one overview, what adjustments have been made in a shot or an entire film. I also like the fact that the interface has been created from the perspective of the colourist.
Where do you find your inspiration?
In cinema and television, of course, but also at museums or concerts.
What do you like to do outside the colour suite?
I like walking in nature and I am a beekeeper.
Join In
If you want to participate in our MTC programme, we'd love to hear from you. Contact:
Alexa Maza
e: [email protected]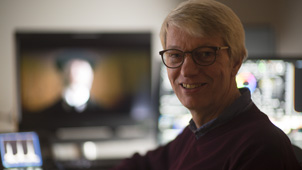 "The shooting days were divided across all seasons and were filmed in five different European countries. It was such an interesting challenge to create an atmosphere in which the viewer would experience the film as if it was all filmed in the United States around 1880."
Details
Colourist: Martin Klein
Role: Colourist
w: Filmmore