Meet The Colourist
Nick Dalby
Colourist, UNIT Studios, London
Nick Dalby has been with UNIT Studios in London for over four years, crafting beautiful images on a wide range of commercials, music promos, short films and, more recently, long-form documentaries.
Here, he discusses his work on visually striking promos for Sampha and La Roux, as well as his journey in colour.
I grew up in Harrow and spent pretty much all of my academic and early career in and around London. I studied art & design alongside music technology at college before heading straight in to work as a runner for a production company M2 Television in Soho.
Can you tell us more about the different paths in your career?
I started out being all about music creation and sound design. It seemed the obvious choice as I was DJing and producing progressive house tracks at the time.
Meeting so many different people along the way meant I got the opportunity to spend time in some creatively inspiring situations, such as building portable edit suites for music festivals including V Festival and Bestival in England.
My fascination with video hardware took me through dailies and QC operator roles, finally ending with me finding my way into the grading suite.
When did you know you wanted to become a colourist?
I still remember in around 2005, while I was a runner, I first started shadowing the telecine guys transferring on an URSA Diamond Telecine and a Spirit 2K - this is when I felt drawn to learning the art of colour grading.
You are also a photographer; does it help you in the grading suite?
Absolutely, I feel they are very closely related. My eye for photography translates into my grading work from a creative point of view as well as a technical one.
You've been at UNIT for over four years. Can you tell us more?
UNIT has grown a lot as a company in so many aspects during my time here, whilst retaining its solid core values of creativity and people. It remains family run by Adam and Amanda Luckwell, and is one of the largest independent creative studios in London. Being part of this team means I get to work with some of the best talent around in this industry and continue to grow with the company.
This year has really seen such a marked shift for the studio, as we have moved to a bespoke open plan and beautifully designed space in Berners Mews. It has been specifically designed with our client and team needs in mind. There is always something exciting happening around the five-floor space and this - alongside some new talent who've recently joined the company - makes for a very inspiring place to be.
What sort of content have you been working on lately?
This year I've been broadening into a wider range of advertising content, also finishing up several short films, music promos and even some long-form documentary stuff.
What has been the most challenging project you've ever been working on?
I graded a music video for Sampha's 'Blood On Me' with Somesuch and Director Alex Lill. One of my most creatively challenging yet rewarding pieces to date. From putting a mini in a tree and making it fall, to pulling leaves through Sampha's body - all of which needed to look believable. It was all shot on 35mm film in Essex and had a really distinct look and feel in the grade. There were also multiple VFX passes I had to comp using Baselight.
Achieving the final look was massively helped using the Film Grade tool to balance all the shots and DKey to isolate specific areas to add some of the key colours throughout.
When did you first become acquainted with Baselight?
I converted when I joined UNIT in 2016 and have never looked back. I have really enjoyed getting to grips with all the features Baselight has to offer.
I love the fact that there are so many ways to achieve a look through the use of tools with multiple functions. I'm always discovering new techniques.
And Baselight also gives me the ability to manage colour workflows so specifically, which makes it easier to work seamlessly alongside VFX.
Recently you've worked on the latest music video for La Roux. How did you create the look of this video?
We worked closely with Elly Jackson from La Roux, and Director Nova Dando from RSA. The UNIT Design Collective came up with concepts based on the art and style she wanted to achieve in the video. In the grade, I enhanced the style of each scene to give a distinct look and feel to match the 'good and evil' storylines. The art direction also played a big part in these decisions.
How did Baselight help you achieve this look?
Baselight enabled us to implement the most effective VFX workflow using Arri Linear EXR. Because of the colour management in Baselight, we could easily send graded plates back and forth and bring in the final comps for a master grade in the same session.
Did you come across any challenges during this project?
Some of the lighting and white balance were dramatically affected by the neons and strobes on the set, which threw up a few difficulties with keying and matching shots. The main scene needed a style with a very retro feel but the set needed to look 'premium' at the same time. The bright saturated colours throughout also needed taming while keeping a vibrancy in all the scenes.
When working on music videos, do you grade to the music or focus solely on the imagery?
I grade them to the story. This involves both the direction of the story on screen and the song, and what the imagery can add to that. I feel the video should be just as interesting and eye catching when watched without the music, just as the music should be enjoyed without the video.
Can you say more about collaborating with other departments in post-production?
I think it is incredibly important to maintain a close relationship with all departments involved within the post process. I think the closest one for me is the VFX department, as we regularly collaborate with colour spaces and running comps through grades.
What are your favourite tools in Baselight?
The Texture Equaliser has been extremely useful lately, particularly coupled with the Paint control in the matte tools. This means I get even more precise control in detail.
What advice would you give to your younger self in terms of colour grading?
Don't be afraid to jump outside your comfort zone and trust your instincts.
Hopefully lots more HDR grading, and I'm keen to get stuck into some cool long-form projects.
Join In
If you want to participate in our MTC programme, we'd love to hear from you. Contact:
Alexa Maza
e: [email protected]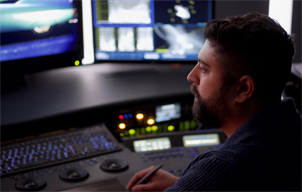 "A music video should be just as interesting and eye catching when watched without the music, just as the music should be enjoyed without the video."
Details
Colourist: Nick Dalby
Role: Colourist
Web: UNIT Studios