Meet The Colourist
Rahul Purav
Senior Colourist, Futureworks, Mumbai
Senior Colourist Rahul Purav was responsible for the look of three of the most popular movies in India in 2016 – Sultan, Banjo and Sanam Re – each with very different looks and requirements. In this interview he talks about his experiences working on these three films, and more…
Tell us a little about FutureWorks Media.
Founded in 2007, FutureWorks provides cutting- edge post- production services to filmmakers for feature films, commercials, music videos and trailers . With state- of- the- art facilities in Mumbai and Chennai, led by industry- experienced personnel , FutureWorks offers creative services in VFX, DI/Colour and Sound. FutureWorks has been one of the early pioneering partners with FilmLight in colour management. We have worked on more than 70 international projects as well as countless domestic projects.
As a colour grading tool, Baselight offers incomparable colour science and flexibility. Our clients have always been very satisfied – especially that we are able to deliver multiple format outputs at the same time.
Can you tell us about your colour DI set-up, and your overall workflow including sound and VFX?
At FutureWorks, we have two Baselight suites. They are integrated with our high-speed network, so we can share projects seamlessly across both of them. This ensures that during tight deadlines, we are able to use both suites to their full potential.
We also find ourselves at an advantage when bringing finished VFX into Baselight and syncing audio for final conforming. VFX shots can be dropped onto the timeline as they are completed, with conforming and matching carried out in Baselight to provide a one-stop finishing process. The process is executed simultaneously, ensuring that our grading sessions are never disrupted and the colourist gets full control as well as time for finishing.
You have completed many projects using Baselight. Can you say more about the recent VFX-rich title Sultan from Director Ali Abbas Zafar and DoP Artur Zurawski?
To create the best outputs on every movie we work on, we always ensure that rushes are tested, screened and pre-visualised.
Sultan demanded a lot of VFX. It was shot primarily on ARRI cameras with anamorphic lenses. The story is set in the tough, dusty, rural Indian terrain of Haryana, with traditional wrestling rings and schools. It moves from there to downtown Delhi and the electric, jazzy MME wrestling zone.
The movie switches from past to present, so we had to ensure that there were different looks for every situation and location, along with tracking the weather conditions. The challenge was not only to design the look but also to ensure that the colour narrative flows along with the story. We had to alter many looks and ambience to suit the lighting and texture of every location, yet keep it subtle and realistic.
We never overpower the audience with loud colours, but immerse them into the environment for them to be a part of the story. Both Director and writer Ali Abbas Zafar and DoP Artur Zurawski were happy with the final result.
Banjo was an extreme project with a riot of colours: the visual palette was designed to embrace the colour scheme of Mumbai's festivities. There was an extensive use of lighting gels to create the ambience on set.
The film 'Banjo' is named after an Indian instrument of the same name, which is used primarily during festivals. It's not the bluegrass sound, though. It is played in Mumbai Ganesh festivals, and is loud and sharp. So, I wanted to take the on-set ambience created during the shoot and enhance it to get a very sharp look in terms of colours and contrast – giving an edge to the entire subject.
The texture of the fishing village came alive after processing – I think that is something to watch out for in the film. You can really feel and smell the air thanks to the colours and ambience, captured on camera by DoP Manoj Lobo and director Ravi Jadhav.
Sometimes, you work under tight deadlines?
Sanam Re was a project with extremely short deadlines. With Baselight, it was executed seamlessly, while still giving us flexibility with an extensive use of colour spaces across the project.
The story is set at high altitude during winter and in the cold desert of Ladakh in spring, along with sequences shot in Alberta. Director Divya Khosla and DoP Sameer Arya captured picture postcard shots – it is a visual delight. In Baselight, using simple techniques like dodging, the colour treatment was executed keeping in mind the tenderness of the locations.
What are your personal experiences using Baselight?
I predominantly use film-style grading techniques, and Baselight gives me total control of images and colour manipulation. But I am also in a position to change my grading style – film or video – easily to meet the requirements of the project.
It is simple to use and execute colour toolsets, which gives me more time to think creatively so I can explore the defining features as I progress through a project. And with Truelight Colour Spaces, I can manipulate and alter the colours as required, yet maintain a non-destructive workflow. Integrating different camera source material into a single timeline is simple and convenient. Altering colour spaces on a timeline saves us a lot of time, and it is definitely more interactive.

Pre-visualisation becomes an integral part of the process, while working with different colour spaces. It offers me much more creative freedom.
What are your thoughts on the BLG colour pipeline?
I am currently in the process of implementing the BLG colour pipeline for more advanced workflows and pre-visualisation. The advantage is that it extends colour beyond the grading suite, and we are excited to be able to implement it at the beginning of 2017.
How would you summarise your relationship with FilmLight as a company?
FutureWorks has always been open to implementing new technologies into our workflows. It gives us an edge over the others, as we offer more creative and technical solutions to our clients. Our association with FilmLight has always been fruitful in developing customised solutions, allowing us to deliver progressive options to our clients.
FilmLight has given our clients immense confidence in our output. And, with Baselight in our workflow, our clients remain very pleased with the end result.
Join In
If you want to participate in our MTC programme, we'd love to hear from you. Contact:
Alexa Maza
e: [email protected]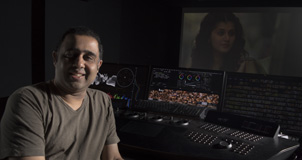 "FilmLight has given our clients immense confidence in our output. And, with Baselight in our workflow, our clients remain very pleased with the end result."
Details
Colourist: Rahul Purav
Role: Senior Colourist
w: Futureworks