Meet The Colourist
Stuart Fyvie
Freelance Senior Colourist, London
Stuart Fyvie is a freelance colourist, based in London, who has worked on many film and TV productions including director Alan Rickman's feature film staring Kate Winslet, 'A Little Chaos', and more recently BBC drama 'The Rack Pack' as well as Christopher Smith's film 'Detour'.
How did you make your start in colour?
I actually started on old black and white films at the BBC. As a trainee back then you began grading for transmission and then transferring to tape. You then moved on to colour when they thought you had enough practice!
Do you recall the first project you colour graded?
The first show I graded and had a credit for was 'Painting the World', a BBC documentary series about the National Portrait Gallery.
What sort of content do you work on nowadays? What draws you to these projects?
I mainly work on features and drama, sometimes documentaries. There are so many different types and areas for grading. Almost everything made now will have a colourist involved.
How many projects can you have simultaneously?
It depends on schedules. Films can often be parked while they await VFX, re-cuts etc. And it depends on your own availability to juggle projects. As a freelancer I can work in several places. But obviously never at the same time.
Can you talk about recent projects you enjoyed?
I recently completed a BBC drama called 'The Rack Pack'. We had a few exterior shots with white flat skies. I went outside, took some cloud shots on my iPhone 6 and then composited them into the show. Baselight's DKey and tracking blended the shot perfectly.
Another project was the feature 'Detour'. I worked on some of Chris Smith's previous films so it was great to be working with him again. And this was being posted at Dirty Looks, which has a very fine set-up so we were able to grade it all in RAW using Baselight in 4K.
How would you define your personal style of grading?
For a feature I like to take broad strokes first. Maybe doing a reel a day (about 20 minutes of footage). Then, in the second week, I finesse it and maybe change the beats of the grade. It usually takes a few passes to get to a result.
Are some stories easier to colour than others?
I wouldn't say stories, but budget definitely matters, especially for period drama. A lot of them are shot on location in very old or National Trust buildings that make the DP's life very challenging as to where they can put lights. The locations are also restricted due to being listed/protected, usually with very expensive interiors. So, you end up using lots of windows and tracking in the grade to maximise the exposure. But if a shot is lit the way the DP intended, it should only really need a gentle adjustment.
What part of the grading process do you spend most of your time on?
What is often not mentioned is actually matching a scene. This can sometimes be all over the place. Different cameras, days or weeks apart in a sequence that may last only a few moments of screen time. That, to me, is often overlooked as a function of a colourist. It should be as invisible as possible. To do this you end up using the full toolset at your disposal. Different skin tones, time of day, colour temperature etc. This often means multiple passes and constant minute adjustment to make it look seamless.
It may vary from project to project, but how early do you get involved in a production?
Usually it is towards the end of the edit. You can often get involved with pre-grading for promos, temp versions for screeners and such. This can be useful simply because it breaks the ice with the client so you are ahead when you actually start for real.
How does the collaborative process between yourself and the cinematographers work?
You are often interpreting their intent so communication is very important. And sometimes the DOP has limited availability so it's crucial you can carry on with their work to the end of the grade. You also need to make sure you use the same nomenclature, or at least understand their language.
What is your approach to colour? How much of it (if any) is specific direction from your client vs. your own tastes?
You subconsciously put your own stamp on things. You could get five of the top colourists in town on the same project and they all would come up with a different result - much like different chefs would have different results for a dish using the same recipe.
Can you tell us more about your collaborative work with the other departments: dailies, editorial, VFX?
Well it is important to stress that you are part of a team. It's vital that the project is scanned or conformed with the correct colour spaces and such. You often can't be in two places at once so you have to rely on assistants and support staff to deliver the result right up to the screening at the first showing. So much of this can go wrong so you have to rely on your team and trust that they know what they are doing backstage.
What do you like most about Baselight?
It's a very flexible system. The team behind it really knows colour science.
Cameras, formats and specifications change all the time. The FilmLight crew really are on top of their game when it comes to this area. They don't copy what other systems do, they are ahead of the curve.
When I first started using Baselight I got familiar with the system very quickly. I love the DKey, cursors and the ability to cut and paste strips from one scene or shot to another. Rippling and global trims are also extremely easy.
What is it about Baselight that helps your creative process?
It doesn't get in the way of the job at hand. The clock is ticking in grading so the technology shouldn't hinder the creativity, just be as seamless as possible.
Any particular colour ideas you are experimenting with or wanting to see more of?
HDR is a new area to explore. This provides more opportunity for grading as I have a feeling it will be about toning things down. There is almost too much information!
Fundamentally, what is the role of a colourist in building the story?
The colourist sits between what the DP shot and the intent of the editor.
Remember, you are telling a story. Pretty images in isolation don't do this. The grade is what glues it all together.
What advice would you give to people interested in becoming a colourist?
Become a good assistant. And try not to copy trends - find your own 'voice'.
I am grading a six-part comedy/drama called 'Brief Encounters' for ITV at the moment. Next will be a feature film version of Stephen Fry's 'Hippopotamus' novel. Both shows are being graded on Baselight.
Where do you find your inspiration?
Often it comes just from experience. A technique can often be used again because a project in the past used it. You should also never stop learning. It's a constant process.
Who is your favorite actor, and why?
I like Ralph Fiennes. I was lucky to work with him on 'Coriolanus'. He is a great person as well as being a very fine actor.
What are your favorite TV series and/or films?
Can't beat 'Game of Thrones' or 'Breaking Bad'- there are so many great shows and box sets, but not enough time!
What do you like to do after you have been in a darkened room all day?
Well the last thing I want to do is watch a movie in a dark room! Once the family is sorted out, I like listening to music. In between jobs I might cycle or actually see a film. It's important to get the work-life balance thing sorted so you can still function as a rounded human being.
Join In
If you want to participate in our MTC programme, we'd love to hear from you. Contact:
Alexa Maza
e: [email protected]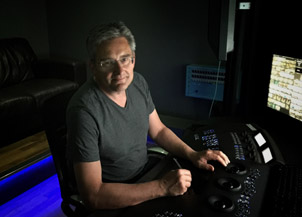 "Remember, you are telling a story. Pretty images in isolation don't do this. The grade is what glues it all together."
Details
Colourist: Stuart Fyvie
Role: Freelance Senior Colourist
w: IMDb