Meet The Colourist
Tom Reiser
Colourist, EFILM, Hollywood
Originally from Chicago, Tom has been a part of the EFILM team since 2003. With his deep knowledge of the DI process and his passion for cinema, Tom brings a strong enthusiasm to all his projects. Whether it's a classic film look, a modern digital look or somewhere in between, Tom is adept at working across many different styles and genres. After earning a computer science degree in 2000, he found work as a programmer and graphic designer before deciding to pursue a career in Hollywood.
How did you start out in post and become a colourist? Was it luck or a ready mapped out plan?
Back in Illinois, I started as a programmer but I quickly realized it wasn't for me. I'd rather do something creative, interact with people, than sit in a room, programming and repeating the exact same thing over and over.
I moved out to LA in 2002 with the general idea that there must definitely be something cool happening in the intersection of computers and movies. I began to look around and was lucky enough to land a job at EFILM in early 2003, starting out in dust busting.
This gave me the chance to learn everything about the software and every aspect of DI – I became obsessed with every part of it! I felt, and still feel, that my job - which involves creativity, movies, art and colour - is perfect for me.
Shortly after I moved into a colourist assistant position, I started working with Yvan Lucas. That's what really put me on the path to where I am today. Yvan has a background in lab timing, which has a logic to it that I totally related to. Something just clicked in my brain when I saw his approach. In a way, lab timing methods are the foundation of my work and my way of thinking as a colourist today.
I remember as a kid, movies and comics were such an escape for me. As I grew older I started to go to museums, discovering various aspects of the arts. Looking back now, I was obsessed with colour way before I realized it.
At work, any time I could put my hands on a projector and a system, I would just go for it, trying to learn everything about it. I'm fortunate now to be at a company where everybody shares knowledge and helps each other out. When working in colour there is always something new to learn, new challenges. Today, I still feel that with every project I'm learning something new. It's great to be able to work with different creative people and see how each person approaches the same process.
What sort of content do you work on (film, commercial, TV programmes, music)?
I work mostly on feature films. EFILM is a company serving the motion picture industry. Clients include film studios, independent filmmakers, advertisers, animators, visual effects companies and large format filmmakers.
Can you tell us about Fury, your latest project?
I've had the privilege of working recently on Fury, a feature film set during World War II, written and directed by David Ayer. The film stars Brad Pitt, Shia LaBeouf and Logan Lerman.
I have a background with both David Ayer, and Roman Vasyanov, the DoP: I worked with them on End of Watch back in 2012. So before we started working together on Fury, we sort of had this trust level already, which was really nice.
For Fury their approach was unique. Instead of the normal World War II movie look that we've all seen, they decided to go for a more realistic and contemporary look, so we feel closer to the characters and what they are going through at that particular moment – we are there with them.
Roman shot the material beautifully as he always does and then we worked together in post to provide this somewhat more modern look while respecting the era of the movie. We played more with the cooler tones but still grounding it in reality, keeping a naturalistic light. There is a very specific sort of palette that helped inform the visual language of this film.
It was shot mostly outdoors, in 35mm anamorphic. Exterior scenes are always a challenge, with the weather changing constantly. Sometimes you get more sun than you would want; some shots were just too sunny for the look of the movie.
Within Baselight, we used a lot of keys and shapes and gradients to drastically change the light and help these scenes flow. The speed you can work in Baselight is what I find the most impressive, actually. It helped us work quickly through these challenging scenes. I don't like working on still frames, I'm constantly playing backwards and forwards. Speed is essential for me.
Were there any particular challenges or interesting sequences?
From a colouring point of view, Fury presented some very interesting challenges. I already spoke about the sheer amount of exterior footage.  Also this is a 24-hour movie – it takes place over the course of one day. A favourite sequence of mine is the change over from end of day to dark night; we have a few minutes of screen time to make this major transition. I'm very happy with the way we handled it. Plus it leads right into a very cool night action sequence that I think is just beautiful.
I also love the naturalism of the movie. For colours, we were thinking dirt, grit, grime, mud, motor oil, etc. You want to feel like you are there with these guys in the thick of this madness.
What was the collaboration like between you and the director and DoP?
Roman, who I think is a remarkably gifted DoP, was here with me quite a bit working out the look. David would stop by every few days to give notes. Then we'd get to work and show him again the next time.
David is fantastic to collaborate with. He understands colour very well, and he knows what he can expect from the tools. The aim for this film was to keep a naturalistic approach, so he never tried to push anything too far. This really gives it a sort of documentary style, which I love.
What advice would you give to someone looking to start a career as a colourist?
One thing I think is just to look and observe everything. Go out in nature, in crowds, just look at everything in different lights. I personally go for hikes all the time. It is important to understand what different times of day look like. This is something I experienced while I was working on Fury when I wanted to keep things on the natural side.
What makes for a good day at your desk?
I'm easy, just a good sound system, fresh coffee, and of course beautifully shot material to work on!
Tell us about your DI suite and Baselight set-up?
I work on Baselight TWO with 4.4 software and the latest Blackboard 2 control panel. I have a nice suite here at EFILM Hollywood plus we have plenty of rooms set-up across town that I find myself in from time to time.
We heard you had a specific set-up for your Blackboard control surface?
Being able to configure the Blackboard panel any way you want is absolutely one of my favourite features – it's awesome.
Mine is highly personalized, so that I can do everything I want to do with my left hand using just one or two clicks, while my right hand is for grading only. I also like to use an external number pad for printer lights - I have all these colours wired into my muscle memory for those 12 keys!
So what do you like to do after you have been in a darkened room all day?
A great thing about working here is that I can get up to the Hollywood hills quickly after I'm done for the day. I enjoy hiking a lot – really anything other than spending more time in a dark room!
Is there a film/commercial/music video that you particularly like?
During my college years, Stanley Kubrick's Eyes Wide Shut came out. I remember seeing it a few times in the theatre, really thinking about the colour and the look. I remember discussing it with my friends for hours afterwards. That movie just stuck with you. Something really struck me about his use of colour in that movie.
If you could have graded any movie/commercial/TV episodic/music-video in your lifetime, what would it be?
As you can probably guess from my previous answer, Stanley Kubrick would be the number one person I would have loved to work with.
If you had to swap roles with someone in another department for the day, which department would you chose?
The only other job in Hollywood I would be interested in is working on a camera crew. It would certainly be nice to move around more during the day!
What's your favourite TV series?
I love strange, out-there comedies like Children's Hospital, Check It Out or The Eric Andre Show on Adult Swim. Another favorite right now is Broad City on Comedy Central.
What does Baselight give you that other systems cannot?
The speed is amazing, as is the flexibility. There are so many different ways to work with it.
Another great feature is the ability to keep and apply different LUTs for different shots. No other system I've used can do this so easily. At EFILM we have huge library of LUTs that I have at my fingertips.
Baselight's automatic tracking system is amazing too – I love that clients can see windows animated right away.
Join In
If you want to participate in our MTC programme, we'd love to hear from you. Contact:
Alexa Maza
e: [email protected]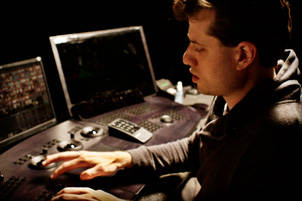 "Being able to configure the Blackboard panel any way you want is absolutely one of my favourite features – it's awesome."
Details
Colourist: Tom Reiser
Role: Colourist
Company: EFILM, Hollywood
w: EFILM