Meet The Colourist
Vincent Taylor
Senior Colourist, Harbor, Los Angeles
Majoring as a Director of Photography at Australia's VCA, Vincent Taylor became an award-winning cinematographer before crossing over from behind the camera to work in colour grading. In this field he built a strong reputation as an innovative and exciting colourist in Australia & China in commercial and creative industries, before moving to the US where he now grades for Harbor in Los Angeles.
You started your career as a cinematographer. What made you move into colour grading?
I had been shooting for maybe four or five years, and I lost my way a little bit. I loved lighting and camera operating but I'd had a few things happen so I decided to step out of the industry for a while.
Fast forward a year, I was managing a bar and a good friend asked if I would shoot her film. I was reluctant, but she was such a great storyteller and her enthusiasm pulled me in. This was back in film days so once the shoot was completed we took the film for its traditional telecine one light transfer. During the process I had an interesting conversation with the post house, where it was suggested that coming from a cinematography background might be a great foundation for a colourist.
This was a new approach at the time. I honestly didn't know if it was for me but, fortunately, I couldn't have been more wrong. I instantly fell in love with the role. There was a steep learning curve but I was still dealing with light, shade, colour and - most importantly to me - storytelling. I've never looked back.
You've recently joined the team at Harbor - can you tell us about the studio and your work there?
I was very lucky to become part of the Harbor team. My friend Billy Hobson, an amazing colourist at Harbor, told me they might be looking for someone . I had a meeting with the  co-founder and president, Zak Tucker, he liked the work I'd been doing, and we got on really well.
I spent a few months at Harbor in New York working on the Tiger King 2 series and the Kanye West film for Netflix. During that time, I got to know the colourists there and it quickly became obvious that Harbor was a good fit. A great fit. Shortly thereafter I moved to the Los Angeles office. The studio is incredible. We are currently expanding, adding more theatres for colour, finishing, and sound. And our other locations – New York, London, Chicago, and Atlanta – allow me an opportunity to grade in multiple cities, not just remotely but physically as well.
What is it like relocating as a colourist?
I've travelled quite a bit because of my job. I started my career in Australia working both in Melbourne and Sydney. I did a couple of projects in New Zealand and then relocated permanently to Shanghai before New York and now Los Angeles.
Relocating, as in any job, has its benefits as well as its challenges. Navigating around a new language or a new way of life is exciting, and you grow as a person, you can't help it. As a result, I am very different to what I was when I left Australia and I'm grateful for those changes and extremely lucky to have met so many wonderful friends from all around the globe.
The effect of relocating on being a colourist is only positive. Working with different grading systems is fantastic because you get an opportunity to break your habits, whether you want to or not, and that is a perfect opportunity to get better at your craft. It's not always comfortable, of course, but most growth isn't. Different places in the world also have different aesthetics, so as a colourist this is like a brand new paint set to play with. There is also the influence of your surroundings; the light is different, the people look different and the buildings and landscapes all look different. I believe that this is all healthy food for an artist and craftsperson.
Finally, there is an interesting perception of the role of the colourist, depending on which part of the world you live in. In some places you are more of a technician and in others more of an artist. The ideal, for me, is when there is a meeting of both craft and art but you don't always have the luxury of choosing.
When did you first become acquainted with Baselight?
I first start using Baselight at The Lab in Sydney in 2007.We were still very much using telecine chains such as Ursa, C-Reality and Spirit coupled with Davinci 2K, so it was an eye opener to play with a fully non-linear grading system with a very different and new approach to colour science and toolsets.
One of the very first projects I graded on Baselight was a music video called 'Walking on a dream' by the band Empire of the Sun. I remember literally saying "Let's see what this thing (Baselight) can do" and I tried just about every tool that I could. Even though that clip has dated quite a bit, I received such positive response from it through the years and it was a fantastic way to be introduced to Baselight. Music clips are always so much fun in that way because you can really push an idea and you don't have many of the restraints that you might have for commercials or dramatic productions.
You've created a successful podcast called 'The Color Couch'… how did it start?
I'm not sure I'm going to agree with the word 'successful' but the folks who listened to it seemed to enjoy it. Honestly, it was created as a response to the vacuum that came from Covid. I was so used to having clients in my suite and chatting, hearing stories and experiences in the industry that I really missed it. So, I decided to create a 'Color Couch' and chat to people who were in my universe.
The conversations weren't necessarily based on colour - I spoke to a storyboard artist, writers and producers as well as cinematographers and other colourists. Unfortunately, the Color Couch has been put into storage, but maybe I'll still do one or two from time to time… a 'Christmas Special' perhaps!
You've worked across all genres. How do you approach grading short form in comparison to long form?
This is a great question. In many ways you approach it the same way, or at least I do. Storytelling is storytelling whether it's a chicken commercial or a 60 minute murder mystery. It deviates from that approach though because of time, money and the miniature nature of commercial projects. It makes you look at the project differently from an organisational point of view as well, for example, a TV series where you have a massive number of shots to get through over a couple of days versus a 30 second TV commercial where the reds in product packaging or car panels must be exact. But all of that said, I still approach all of these projects as stories. I want the viewer to be in that world, whatever world that is.
On a personal level I'm at a very definite crossroads now with short form, or commercial work, versus longform projects. Many years ago, I managed to have a nice balance between both, but it seems like these days a colourist can quickly become pigeon-holed into one or the other. Because I come from a background of longform projects, both as a cinematographer and as a colourist, I'm pushing back against the stereotype to get back to doing more longform work. It's challenging to break through, but the needle has started to move over the last six months.
Where do you find most of your inspiration?
Everywhere. It's true. Talking to other colourists, directors and cinematographers about what they are working on or what they are watching or approaches they are taking to specific projects. Art galleries, photographic exhibitions and museums always seem to re-inject passion into my aesthetic veins. I recently went to a video exhibition of Pipilotti Rist at MOCA which completely blew my mind. Talk about colour! I also went to the Academy Museum of Motion Pictures for the first time, here in LA, to see the Hayao Miyazaki exhibition which was just so wonderful.
Sometimes it will be something as simple as looking at your feet and seeing a type of leaf you've never noticed before. I found this leaf only the other day with this brown edging but on the inside it looked like petrol mixed with water, greens, blues, yellows - it was so amazing.
With 20 years of experience, how do you think your profession has evolved over the course of your career?
Obviously the first major evolution that comes to mind is the leap from linear to non-linear workflows. That is followed very quickly, or maybe it's hand in hand, with the move from film to video. Or perhaps 'data' is a better word than video? Both revolutions have had an immediate impact on the role of the colourist. The toolsets that have had to step up with these changes have been incredible.
I don't read industry forums very often but a common thread these days appears to be complaints about software features, or lack thereof. This always surprises me because the toolsets available to a colourist today are magnificent compared to what we used to have available to us. A very real side effect of having a larger toolset is that many more things are possible in a grading suite, so it is very easy to spend much more time working on shots and yet, unsurprisingly, the amount of time from a budget point of view has either stayed the same or has reduced. Many colourists now do things that would have previously been regarded as outside the role of a colourist. Whether this is a good thing or a bad thing, well, I have mixed opinions.
What work are you the most proud of and why?
This is the kind of question that reminds me of 'If you could have only one song to listen to on a desert island, what would it be?' It's really tough.
There are so many projects that I'm proud of. Some are because of the content itself, such as a short project I worked on with writer/director Chloe Haywood about a woman who is forced to reconcile her abusive relationship whilst stuck in lockdown. The colour grade for this I loved but the integrity of the project itself made me very proud to be involved. I worked on a feature film by the very lovely director Eric Steel called 'Minyan' which was shot by the amazing DP Ole Bratt Birkeland. The process of working on that film was as near to perfect as I have ever experienced, where the creative click between the director, DP and colourist was completely in sync. Then I also worked on a commercial spot that I love because the balance of the aesthetic and the content feed each other perfectly. This was part of a campaign called 'New Black Wall Streets' directed by Matt Dillon Cohen and shot by Mike Gioulakis.
What has been the most challenging project you've worked on?
I find the most challenging projects are those where the workflow gets in the way of the grading. This can be in relation to the technical aspects of the project such as making acquisition formats match that, maybe, just shouldn't have been put next to each other. A 35mm film scan next to an earlier model iPhone comes to mind. More often though it's the type of thing that can be avoided. This can be something as simple as the approval process of the grade or completely reversing the brief as you are about to render the grade after a couple of days work. That said, it's part of the job and if you can deliver the project whilst jumping through these hoops you feel a sense of pride in having completed the project and keeping the client happy.
Do you have a particular goal you would like to achieve by the end of your career?
I've really only just started working at Harbor. I'm excited about the opportunity, not only because of the list of amazing projects that the studio has been associated with but because of the community that Harbor has created. I've worked at so many amazing places throughout my career, but this is the first time I've encountered an environment where knowledge and experience is shared without a second thought.
The colourists I'm surrounded with here inspire me, encourage me, and make me better at my job. I don't have a specific goal that I am pushing toward, but I have had a very focused goal since I first headed down this colourful path - to avoid stagnation, or being stuck. Part of that has been achieved by working in different countries and different companies but now that is actively achieved by being in a family of colourists that are making me step up in every element of my job. Some of that is challenging but all of it is rewarding. I guess now, having read that back to myself, that I do have a goal - probably the same as most people - to be better at what I do.
Join In
If you want to participate in our MTC programme, we'd love to hear from you. Contact:
Alexa Maza
e: [email protected]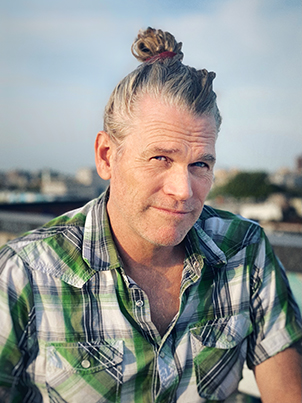 "Relocating, as in any job, has its benefits as well as its challenges. Different places in the world have different aesthetics, so as a colourist this is like a brand new paint set to play with."
Details
Colourist: Vincent Taylor
Role: Senior Colourist
Web: Harbor