Meet The Colourist
Yoomin Lee
Colourist, Jogger Studios
London-based Jogger Studios has recently appointed one of Australia's brightest grading talents, Yoomin Lee, and also brought Baselight into the equation.
Meet Producer Glen Percival and Colourist Yoomin Lee…
Glen, can you give an introduction to Jogger Studios and your sister company Cut+Run?
GP: Our artist-led London studio welcomes all projects, from high end VFX, to Baselight colour grading, as well as motion graphics and finishing for commercials, episodic television, film, music videos and branded content.
Our sister company, Cut+Run, is a renowned offline edit house offering a roster of some of the industry's most talented editors. Cut+Run works on all manner of projects, from commercials and promos to short films and content. Cut+Run has been around for over 20 years and now has offices, along with Jogger, in London, New York, LA and San Francisco.
How does Baselight fit into your workflow? How does content move around your facility?
GP: Having the advantage of being based within the same premises as C&R, we are able to easily move all media and offline assets directly from the edit suite to Baselight, Flame and our Motion Graphics department via our internal network. Being an integrated facility works really well for us. Because we always have the rushes available in house for the editors to work from, we are usually able to get a head start on the grade, sometimes even before we have a final locked cut.
Offering a "one stop shop" to our clients is massively beneficially for ease of use and helps us to manage ever tightening schedules and deadlines.
Do you share projects with other departments within your facilities?
GP: We've got Avid, Final Cut, Premiere, Flame, Flame Assist, Flare, After Effects, Cinema4D, 3DS Max, Photoshop… Pretty much all the industry standard tools. Everything moves around fairly easily. You just have to keep organised. Sometimes we might have more Motion Graphics on a particular job, other times it will be VFX heavy. Every job is different.
The big thing for us at Jogger has been trying to get the different offices to work more closely together. We want to leverage the fact that we have 14 Flame/Flame Assist seats across the offices now. We are able to take on bigger projects from start to finish.
Yoomin, how did you make your start in colour?
YL: After studying film and working on a film production, I got a job as a runner through a friend who was a 3D animator at Frame, Set & Match, a post house in Sydney.
I was fascinated with all the machinery (we had ITK Millennium Telecine, Da Vinci 2K and Baselight), and I got to know about colour grading. I used to monitor in the tape room what colourists did to the images and I was fascinated by it. It was like the process of painting - creating light, contrast, mood and texture.
I asked one of the senior colourists, Scott Maclean, if it was OK to sit with him and I started to learn from lacing up film. Then I got promoted to a telecine assistant and I learned a lot from two great colourists - Scott as well as Christine Trodd.
After that, I moved to several major post houses in Sydney and recently joined Jogger Studios in London.
You've been a colourist in Sydney, London and many cities wherever you were needed. Has your work changed across those countries?
YL: It is very interesting to observe how people use colour differently in different cities. One thing I noticed since I moved to London is that people tend to be less obsessed with blue sky.
Over the last decade, you have pulled together an expansive portfolio of work, particularly in high profile campaigns. What draws you to these projects?
YL: I have been pretty lucky to have opportunities to work with very talented and passionate people. It takes time to build relationships with your clients and once you understand each other well, it makes the whole process a lot easier. I was lucky to have regular clients who let me be a part of their projects.
Are some projects easier to grade than others?
YL: Obviously if they are well lit and shot in the way they are intended to look, its easier to grade. But I feel most of the time, grading is more about communicating. Colour is such a subjective thing, you never know if the other person is seeing what you're seeing, so it's easier to grade with clients who I can communicate with well.
I personally enjoy any project that allows me to give my input, and push myself further. I like working with people who have aesthetically similar views, too.
Can you name a few recent and upcoming projects, and tell us what's special about them?
YL: I recently graded a Depeche Mode music video directed by Anton Corbijn. It was black and white, and I totally enjoyed working with Anton who has a great vision as a director and photographer.
We also recently graded a Cadbury Christmas campaign. There were so many versions with a quick turnaround, and using Baselight was beneficial to help us meet the deadline.
Glen, why did you initially select Baselight over other competitive products?
GP: To be honest we were driven by the market. We had another solution available previously, but clients were more interested in Baselight as the grading system of choice. It is powerful, stable and can handle pretty much anything we throw at it.
What do your clients like most about what you can offer with Baselight?
GP: The strength of our appeal to clients is that we can offer end-to-end finishing, from the edit right through to delivery. They like the speed and flexibility of the system as well. They love that it can handle all of the latest camera formats and codecs. They also love the reliability - there is so little down-time. Upgrades are easy to install and if we do ever have a problem, support is able to get things sorted really quickly and easily.
It may vary from project to project, but how early does Jogger Studios get involved in a production?
GP: From my experience, I have seen how post houses are often brought in before production even begins. Of course, this is usually when the treatment has a post-heavy approach, but our clients often feel more comfortable moving into production with us alongside to help make sure that the post pipeline will work within the allotted schedule.
Offering VFX shoot supervision is a great way for us to estimate the work needed and also means we can offer our clients advice on the best way to shoot, so it helps us to creatively guide them to the best way to achieve the desired results.
One thing that I am grateful for is having Baselight involved in the workflow, because I know that despite the multiple different formats that we might be supplied with, when we get the graded footage through to conform and work with, it will all be in the format and colour space that we need.
How do you grow in our evolving film industry and keep current with emerging technologies, workflows etc.?
GP: The secret is to get involved with as many different projects as possible. If you keep that variety going you'll keep learning and developing. No two projects are the same so there's always something new to deal with. If you have commercials, episodic TV, film and branded content all working their way through that facility, then you will be coming up against new and interesting challenges every day. Keep your finger on the pulse!
Yoomin, what do you like most about Baselight?
YL: It's hard to pick just one feature. To me, Baselight is by far the best grading system out of all the systems that I have used. To achieve the same thing, I can save a lot more time using Baselight with its great functions. Its good to not feel limited or compromised within limited time - especially with TVCs.
In general, you can push so much with Baselight without breaking the image. It's very subtle and intuitive in enhancing colours. And tracking is superb.
What advice would you give to people interested in becoming a colourist?
YL: The environment has been changed massively since I started.
These days there are many ways that you can train yourself as a grader with accessible software. However, I would strongly recommend getting into post houses with any entry level position. It is very valuable to learn from experienced colourists, and you get to learn a lot while you assist.
YL: There are so many inspiring people around me. I get inspired by people who have great craftsmanship.
What's your favorite TV series and/or films?
YL: The Kingdom (Lars von Trier), A Clockwork Orange, Seven, Happiness (Todd Solondz), Fargo, Memories of Murder, Nobody Knows.
What do you like to do outside the colour suite?
YL: I find myself enjoying woodworking, going to galleries. Being away from television. Actually I haven't had a TV for many years.
YL: It's only been two months since I came to London. I am very excited to explore the city, meet new people, and enjoy myself working in Soho.
Join In
If you want to participate in our MTC programme, we'd love to hear from you. Contact:
Alexa Maza
e: [email protected]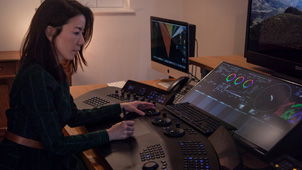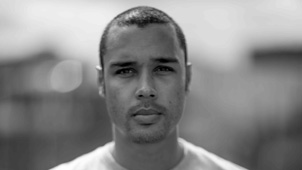 "I used to monitor in the tape room what colourists did to the images and I was fascinated by it.

It was like the process of painting - creating light, contrast, mood and texture."
Details
Colourist: Yoomin Lee
Role: Colourist
w: Jogger Studios