A Look at FLIP with GrundyUFA
Germany's GrundyUFA Takes the Production of Daily Dramas to New Heights of Quality and Speed with FilmLight's On-Set Preview System
As the largest producer of original television content in Europe, GrundyUFA is always seeking ways to contain production costs and enhance production values. Often those goals are in conflict, but over the last five years GrundyUFA and FilmLight have been jointly developing their expertise in on-set colour management technologies resulting in a new on-set preview system – FLIP – designed to help film and television productions save time and money both on the set and in post-production, as well as delivering a dramatically better product.
GrundyUFA has been using FLIP during the production of two daily dramas, Gute Zeiten, schlechte Zeiten (Good Times, Bad Times) and Verbotene Liebe (Forbidden Love). The shows are amongst the most popular of their type in Germany (Good Times, Bad Times attracts an audience of more than 4 million daily viewers) and both are broadcast five days a week. Their production schedules are obviously very demanding.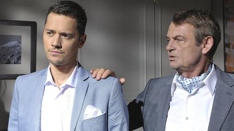 In all, GrundyUFA produces four daily dramas at its production facilities in Cologne and Berlin (including Good Times, Bad Times and Forbidden Love) in addition to a variety of other film and television content, and it has developed a unique "industrial" approach to production and post-production in order to maintain its high pressure schedule. By necessity this has involved a process of continuous improvement, identifying and finding cost effective solutions to bottlenecks in the workflow.
One issue that had been a persistent drag on production was the need to set lighting and adjust cameras each time a production moved to a new set, in order to maintain a consistent look. Forbidden Love, for example, employs more than 50 sets. This issue also impacted post-production as the process of establishing looks on the set was inexact at best. Colourists often had to devote a lot of effort to addressing inconsistencies from shot to shot and set to set, leaving them little time for more artistic fine-tuning.
FLIP was developed by FilmLight specifically to make the on-set production process both more creative and efficient and to channel those benefits through to finishing. The process starts with the colourist who generates a database of 'looks' on Baselight, which are loaded into FLIP as Open EXR format BLG (Baselight grade files); these files include all of the grading metadata for each look. FLIP is then used on the set to apply the appropriate pre-established looks to live camera HD-SDI monitoring feeds, which can then be further adjusted using FLIP's Baselight grading tools. Each shot is therefore seen on-set in something close to final form after final colour grading has been applied. The benefits are easy to see in application. Using FLIP a director of photography can very quickly judge if lighting and camera settings are correct, greatly reducing costly delays and speeding the transition from set to set. Footage delivered to post-production is consistent and much closer to the desired final look, allowing colourists to devote more time to polishing the look and making aesthetic enhancements.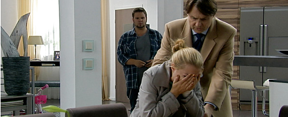 The new workflow was implemented with immediate success on both Forbidden Love and Good Times, Bad Times, by GrundyUFA Senior Colourist Oskar Kammerer and DoP Supervisor and Visual Consultant Jens Tukiendorf, Kammerer using Baselight to create looks for each of the dozens of sets used by the two soaps.
"In the past, maintaining a consistent look for each show had been a huge challenge; week to week we had to deal with a wide range of raw material," Kammerer recalls. "It took a long time on-set and it took a long time in post-production. Each DoP who worked on the shows brought in certain ideas about lighting, but that often conflicted with our desire to maintain a certain look for our product.
"FLIP allows us to maintain a database of pre-designed looks for each of these daily dramas. We can apply those looks live, adjust each grading element if required and make sure that the lighting and camera settings are perfect. Once the look is set it is logged against the relevant shot and returned to the colourist as grading metadata in exactly the same Open EXR format as the original database look. It is then a simple process to load the BLG look files into the Baselight timeline, in which the on-set grades are automatically applied to the raw camera data. Starting with reference looks that are as close to final as possible means we are saving a huge amount of time and achieving consistently higher production values."
Aesthetically there are significant differences between the two shows that the team have to deal with. Forbidden Love takes the viewer into the world of a noble and middle class family and opens the door to their secret wishes, hidden desires and great intrigues that cause new, exciting and turbulent stories every day. Forbidden Love is shot with an Arri Alexa camera and produced in the manner of a prime-time drama. "The Alexa has a 35mm chip, so it looks close to film," explains Kammerer. "We are working with big lenses. The show has a glossy, glamorous film look."
Good Times, Bad Times, by contrast, looks more like a documentary or reality TV series. "We shoot that with Panasonic studio cameras," says Kammerer. "There's a lot of desaturated stuff. The settings are the streets of Berlin and it's intriguing and rousing environment – it shows the real, modern and fast moving life."
FLIP works equally well in achieving both the glamorous, filmic look of Forbidden Love and the unpolished look of Good Times, Bad Times. "It creates a wide range of possibilities," Kammerer says, adding, "FLIP creates a bridge between production and post. In television, production and post-production normally have distinct roles, but not here. Our colourists often talk about looks and lighting with the camera crews, and FLIP provides a fundamental basis for their conversations. Every week that we work with FLIP it gets better and better and brings us closer to the final look."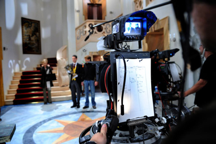 Kammerer notes that FLIP is important not only for camera and lighting settings, but also for making critical judgments about make-up, costumes and sets. "Previously, we often had to make compromises, we had to make sure things were 'safe' for shooting," he recalls. "With FLIP we can go further in our aesthetic choices – we can review make-up and costumes on the set and know that we can handle it."
About GrundyUFA
As an independent subsidiary to UFA, GrundyUFA produces more than 45.000 minutes of fictional series a year. Using a perfectly coordinated modular approach, GrundyUFA is the leading German series producer. In 1992 GrundyUFA developed "Gute Zeiten, schlechte Zeiten (Good Times, Bad Times)", the first and most successful daily series in Germany to date. "Unter uns (Among Us)" and "Verbotene Liebe (Forbidden Love)" followed in 1994/95, "Alles was zählt (All or nothing)" in 2006.
With transmedia storytelling and original content the GrundyUFA Unit DigitalDrama extends the series into the Web. Besides social media activities and TV accompanying online material on websites such as GZSZ.de DigitalDrama develops strategies and produces online series, such as "Clarissas Tagebuch" (2010, DasErste.de), "Unter vier Augen"(2011, RTL.de) and "Des Jägers Herz" (2012,RTL.de). For their online series "PIETSHOW" they were nominated twice for the International Digital Emmy Award.
Für die deutsche Version der Case-Study hier klicken | Click here to read the Case Study in German.
Watch
Find out more about GrundyUFA's workflow.
Related Links